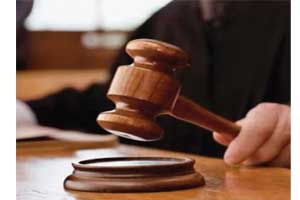 Ahmedabad: The consumer court in Gandhinagar has ordered the Apollo Hospitals International Ltd to pay a compensation of Rs 4.92 lakh plus interest to a patient for leaving a cotton swab in the belly after the surgery.
The case is that of a 65 year old patient who lives in Muscat and had come to Apollo Hospitals in Ahmedabad with complaints of a stomach ache. A surgery then performed on the patient by Dr Lakshman Khiria on September 9, 2011 and soon after he was discharged.
The patient complained that even after the surgery, he continued facing problems in his stomach adding that On September 23, 2011, when he was getting discharged from the hospital, an x-ray report was handed over to him that probably revealed a tiny opaque shadow, towards which doctors did not pay any attention.
After the operation, the patient went to his native village in Bharasar near Bhuj in Kutch where he noticed the oozing out of pus from the stitches. He consulted the local doctors who after investigations informed him about the presence of a foreign body inside his stomach.
As a result of the presence of the foreign body the patient had to be once again operated on December 14, 2011 for the removal. The doctors and the patient's family videographed the surgery that indeed revealed a cotton swab being operated out of his belly.
In January 2012, Varsani complained to Apollo Hospital alleging its doctors for medical negligence. TOI reports that he was initially offered Rs 12 lakhs in compensation by the doctors but later on, it was denied saying that the Chennai office did not approve it.
The patient then filed a complaint before the Consumer Dispute Redressal Forum in Gandhinagar where he sought compensation of Rs 19.5 lakh for the pain, shock and expenditure incurred.
After looking at the case, a forum headed by M J Mehta concluded that the negligence was from the doctors' end and that it was a case of "res ipsa loquitur' (thing speaks for itself)
TOI quotes the court as observing,
"There is no dispute that the cotton mop was left during the operation. It was reflected in the X-ray report during the time of discharge from the hospital wherein it was reported that there was abnormal tiny opaque shadow. But the doctors did not take any note or they neither treated the patient for removal of the swab. Had they done it, the patient would not have suffered so much pain."
The consumer court applied the principle of 'res ipsa loquitur' (thing speaks for itself) in this case to deduce that it was a medical negligence. The forum ordered the hospital to pay Rs 4.92 lakh with 9% interest since 2012.
0 comment(s) on Leaving Swab in Patient Tummy: Apollo hospital told to pay compensation