................................ Advertisement ................................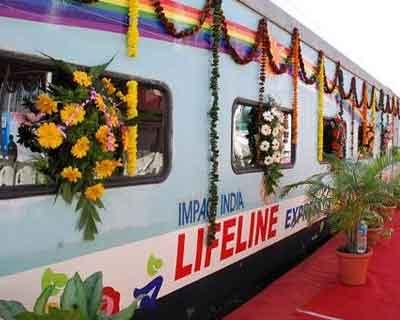 New Delhi: To increase the scope of treatment in Lifeline Express, two additional coaches equipped with detection and control of cancer and stroke will be augmented in the service. Railway Minister Suresh Prabhu along with Health Minister JP Nadda will inaugurate the augmentation of two additional coaches to the existing five-coach hospital train Lifeline Express.
The coaches are meant for the detection and control of oral, breast and cervical cancer, prevention of stroke and family health services, according to a release. These additional services will be provided to augment the existing restorative surgeries conducted for sight, hearing, clefts, burn contractures and orthopaedic impairment, and treatment of epilepsy and dental problems on the Lifeline Express.
Three fully equipped Operation Theaters will be available for free-of-cost services to the rural poor across India.
A total of 10,000 people will benefit at each project location. The augmented seven-coach Lifeline Express will commence its 178th Lifeline Express project at Satna, in Madhya Pradesh from December 15 till January 5, 2017. Other Lifeline Express projects in 2017 will be at Telangana, Punjab, Chhattisgarh, MP, Gujarat and other locations.
This is a unique project which has so far medically treated over one million disabled poor in rural India, all free of cost, made possible with the donated services of over 200,000 medical professionals from around the world.
................................ Advertisement ................................
Lifeline Express has performed more than one lakh surgeries for restoration of mobility, vision, hearing and correction of facial deformities. The Lifeline Express has also provided treatment for Epilepsy and dental ailments. Known worldwide as the "Magic Train of India" has been the model for several countries to replicate this unique project with Hospital Trains and River Boat Hospitals.
Studied at Indraprastha College for Women (Delhi University), completed in year 2014. Currently working with Medical Dialogues, a online Medical news paper dedicated for healthcare Professionals.
................................ Advertisement ................................
1 comment(s) on Lifeline Express to get two more coaches for detection of oral cancer