Liver and heart transplant done together at Apollo Hospitals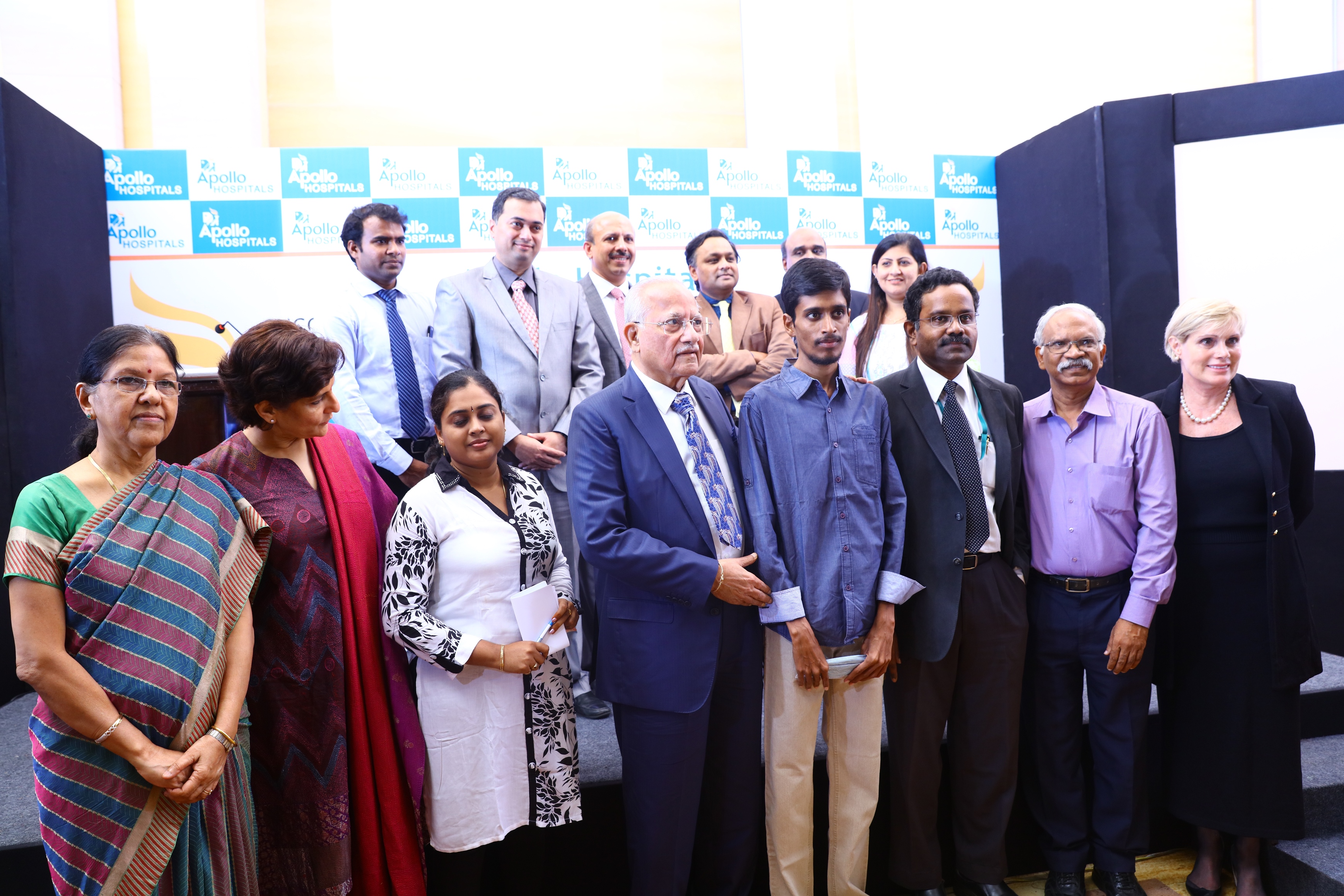 K.P. Ponnar, a 30 yr old man became the lucky recipient of Asia's first en bloc heart and liver transplant at
Apollo Hospitals
.
Ponnar is reported to have recovered well after undergoing this technically advanced surgery where the patient's
heart
and liver are simultaneously being treated; while both the organs are pulled out and replaced with a new heart and liver, it is said to be still connected by a blood vessel.
Dubbed by Stanford University as a"technically demanding surgical technique, best left in the hands of experienced surgeons", only a handful of CHLT procedures have been performed anywhere in the world.
This is the story of Mr. Ponnar, a quiet-spoken young man hailing from Tiruchengode, a small town in Namakkal District, Tamilnadu. Ponnar was an exceptional student who completed his Masters in Engineering and was a gold medallist. At 22, in the prime of his life, with all his hopes and dreams ahead of him and the world at his feet, Ponnar started noticing swelling in his abdomen, shortness of breath and found that he was turning yellow.
This was diagnosed as cirrhosis of the liver, leading to liver failure and he was advised a liver transplant, which his family was ready to get done for the young man. However, when he presented himself for Liver Transplant, it was discovered that Ponnar had a congenital condition called
Ebsteins anomaly
- a failure of the right side of the heart to develop properly, which was the cause of the liver failure.
This unfortunate mix of problems left Mr Ponnar with no other option but a combined heart and liver transplant. This is a procedure that involves surgery of the thoracic cavity (for the heart) as well as the abdominal cavity (for the liver), thus making it a highly risky procedure.
Also read: 
Medanta Medicity performs rare combo surgery- liver and kidney transplant
"With the heart not functioning in an efficient manner, there was high back pressure on the liver causing destruction of the liver cells leading to jaundice and cirrhosis. Additionally, the transplant team had to take into consideration the risk of excessive bleeding in the case of simultaneous transplant and the risk of accumulated toxins in the liver, attacking the heart, if the two organs were transplanted separately." recalls
Dr. Paul Ramesh, Consultant Cardiothoracic Surgeon, Apollo Hospitals, Chennai.
Ponnar waited from April 2015 to October 2015 till a suitable donor was found. He underwent an en-bloc combined heart and liver transplant on 14
th
October 2015 and was discharged home within a week after the surgery. Today, Ponnar is well on the road to recovery and leading a normal life – he is happy that his skin-tone has lost its yellow hue and he can now enjoy the simple pleasures of life – like being able to see his own feet. With the trauma of over 8 years firmly behind him, Ponnar is all set to realize his hopes and dreams.
"This outstanding achievement is a testament to the world-class abilities of our surgeons, physicians, technicians, nurses and other staff who are committed to serving our patients and providing them with healthcare of international standards. The surgery is a result of days of meticulous planning by both our cardiac and liver transplant teams and showcases our strength in terms of infrastructure, and medical expertise. The collaborative efforts taken by both the transplant teams to analyse, strategize and orchestra the whole surgery is laudable."
said Dr Prathap C Reddy, Chairman & Founder of Apollo Hospitals.