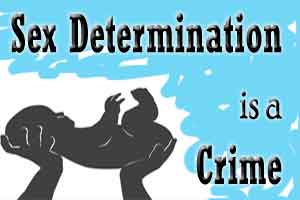 Lucknow: In a unique story of violation of the PC-PNDT Act, Asian Age has recently reported the case of a known pathologist in the city of Lucknow, who has now filed a case against her husband, a radiologist, for sex determination. It has been alleged that the husband after determining the sex of the foetus , asked the wife to undergo an abortion when it became clear the it was a girl child. The wife went ahead with the pregnancy and decided to file a complaint against the husband after recently getting a divorce notice from him.
The pathologist wife, Dr Prakriti Shukla,  had married Dr Tushar Ojha, a radiologist by profession in December 2014. She became pregnant in the month of July 2015 and in due course had an ultrasound performed at her father-in-law's diagnostic center.
"After the test, the behavior of my in-laws and my husband changed. My husband asked me to abort the child and tried to convince me we were not in a position to have the baby. I found the behaviour strange. Next day, after the ultrasonography, my mother-in-law told me in clear terms that since it was a girl that I was carrying, I must abort it as they did not wish to have a girl in the family,", Dr Shukla said in her complaint.
She has stated that since she feared for the life of her child, she went to her parents' house, where she delivered a baby girl in March 2016. A month later, she received a notice for legal separation from her husband.
Dr Shukla is reported to have filed a complaint with the State Medical Council and the District magistrate accusing her in-laws of the violations of the PC-PNDT Act. The registrar of the State Medical council in-turn has formed a committee to investigate the matter.
When contacted, Dr Shukla's father-in-law, Dr S.V. Ojha, however, rubbished all charges and told Asian Age , "I have been in the field of radiology for the past 34 years and there is no spot on my reputation. I do not wish to comment on this matter because I am an accused and the case is being investigated by competent authorities. But I strongly deny the charges."
Dr Jain, registrar, state medical council, informed , "A committee of experts has been formed to investigate the matter. The committee is competent and will give its order only after examining all aspects."
29 comment(s) on Lucknow: Pathologist wife sues Radiologist Husband for Sex Determination