Ludhiana: Lab fire at Mohan Dai Oswal Cancer Hospital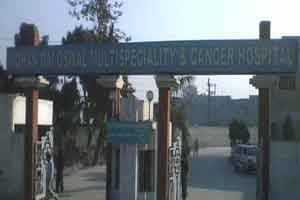 Punjab: A recent lab fire incident at the Mohan Dai Oswal Cancer Hospital in Sherpur led to a chaos at its premise. The cause of the fire has not been confirmed by the authorities as yet. However, it is suspected that some chemical reaction led to the fire.

132 patients from the emergency and general wards were evacuated. This included eight newborns that were in the ICU at that time. Christian Medical College and Hospital (CMCH) was required to handle three patients who were on life support systems. However, no casualties have been reported in the incident.

The fire at the laboratory reportedly started at midnight, and the initial efforts to control the blaze from spreading had no result.

The smoke from the fire from the basement lab spread to other areas including the emergency ward at the ground floor.

Only after the Fire Brigade was called by the hospital authorities did the fire in the hospital building was brought under control at 8.00 am.

As reported by Tribune, Dr VK Kaushal, Medical Director of the hospital, said, "We evacuated all the patients to safety. Everything is under control."

The hospital authorities shifted the patients from emergency ward to the mess of the girl's hostel while general ward patients were shifted to the class rooms of college on the hospital premises.

Attendants at the hospital claimed that they were ill- equipped to deal with such emergencies.