LVPEI hosts the 4th World Congress of Paediatric Ophthalmology and Strabismus in India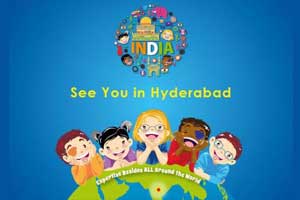 Hyderabad: The 4thWorld Congress of Paediatric Ophthalmology and Strabismus (WCPOS) was being held in Hyderabad from December 1-3, 2017. The three-day World Congress featured an exceptional scientific programme including scientific symposia, live surgery, free paper sessions, numerous workshops, debates and a mock trial. The 4th WCPOS also introduces some exciting new features as agenda that include the first-ever Yoga-with-the-Gurus session in addition to a Live Surgery session and an Adult-Paediatric Interface Day.
More than 1000 delegates from over 60 countries are attending the Congress to attend a phenomenal 500 plus speciality lectures. Over 350 plus posters/papers/videos will be presented along with video presentations. The three keynote lectures will be delivered by renowned authorities Dr Richard Hertle, USA; Dr Harminder Dua, UK; and Dr Lea Hyvarinen, Finland. In addition, following on from the success at the previous Congress, WSPOS will present 'The Mock Trial' with Dr Wagih Aclimandos, UK; Dr Gil Binenbaum, USA; Dr Subhadra Jalali, India; Dr Alex Levin, USA; and Dr Kimberley Tan, Australia.
Commenting on the event, localhost president, Dr Ramesh Kekunnaya, Head of Services, Pediatric Ophthalmology, Adult Strabismus & Neuro-Ophthalmology, Child Sight Institute, Jasti V Ramanamma Children's Eye Care Centre, L V Prasad Eye Institute (LVPEI) said, "This is the first time a world congress on Paediatric Ophthalmology and Strabismus is being held in India. We are also organising a yoga session at the World Congress for the first time to offer the delegates the chance to unwind during the busy Congress. This Congress will provide the ophthalmologists with practical skills and the latest knowledge which they will take back to their place of work, enabling and empowering them to make necessary improvements in their services."
World Science Paediatric Ophthalmology and Strabismus (WSPOS) is an international society with a focus on paediatric ophthalmology, strabismus and the interaction between adult and paediatric influences.
The 20th anniversary of the Children's Eye Care Centre coincides with this landmark event being hosted by LVPEI. Way back on 1st December 1997, LVPEI had opened the Jasti V Ramanamma Children's Eye Care Centre (CECC), a dedicated children's eye care centre, with the support of Dr Jasti Rattaiah and Smt V Ramanamma and a matching grant from Sightsavers International, UK. The couple's passion to make quality eye care accessible for the little ones led to the inauguration of the Jasti V Ramanamma Children's Eye Care Centre at LVPEI - the first dedicated children's eye care centre in the developing world. The centre stands as a testimony of their love and commitment towards children.
Commemorating this occasion, LVPEI is organising "Eye on the future" a day-long academic session featuring a host of international speakers on November 30. Close to 75 international faculty and delegates from India and abroad will participate in this symposium.
Dr Ramesh Kekunnaya further added that this symposium will focus on complex issues in strabismus, surgeries, pediatric cataract surgery and its associated issues and amblyopia, pediatric cornea, glaucoma and CVI workshops. One of the highlights will be the 'What went wrong?' session - which deals with interesting case scenarios, where the delegates can benefit from the experience of our faculty.
The Children's Eye Care Centre has an interdisciplinary approach to comprehensive management of pediatric eye diseases and offers excellent diagnostic facilities including examination of children under anaesthesia and the evaluation and management of children with partial or total visual impairment. It actively collaborates in the areas of research and education with other institutions in India and abroad, and trains ophthalmologists from all over the world.