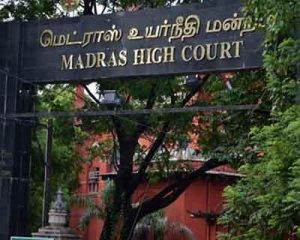 Chennai: The Madras High Court has cancelled the bail granted to an advocate, accused in the murder of a city-based neurosurgeon over a property dispute in 2013.
However, it directed the police not to arrest him till 6 pm on May 15.
When the criminal original petition filed by the city police came up on Saturday, Justice RMT Teekaa Raman on cancelled the bail granted to Williams, a lawyer.
Doctor Subbaiah was brutally attacked by contract killers with sickles in Raja Annamalaipuram locality here and succumbed to multiple injuries on September 23, 2013.
A charge sheet was filed against 10 accused including Williams and the trial was going on at the seventh Additional Sessions Court. "The prosecution alleged that on August 18, 2017, Williams along with four others had trespassed into the house of the witness, Bensam and offered Rs 10 lakh as bribe to turn hostile.
It further submitted that accused also threatened the witness with dire consequences, if he deposed against them.
If the accused were allowed to threaten and coerce the witnesses, it would set a bad precedent for criminal cases which will definitely hamper and hinder the trial proceedings, it said and sought Court cancellation of the bail.
After perusing the complaint, FIR and CSR copy, the judge allowed the criminal original petition.
"The bail granted to Williams on February 2, 2015 is hereby cancelled," he said.
The counsel for Williams sought to keep the order in abeyance for a period of four weeks.
The judge then adjourned the matter to June 5.
0 comment(s) on Madras HC cancels bail to advocate in surgeon murder case