Join Work or Face Action: Bombay HC threatens Striking Doctors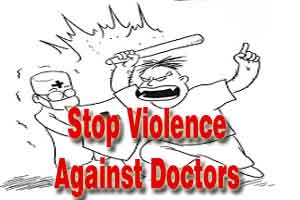 Mumbai: Continuing the strike over the doctors assault for a third day, 4000 resident doctors across 17 government hospitals in Maharashtra, including four in Mumbai, continued their mass Casual Leave today. While emergency services were not disrupted, other functioning of the hospitals almost came to a full stop as angry doctors refused to join back work.
Medical Dialogues team had earlier reported that 4000 resident doctors across the state of Maharashtra had put down their pens and put their stethoscopes aside after a series of assaults were reported from various corners of the state. This indeed included the merciless thrashing of a GMC doctor in Dhule, which resulted him losing his vision in one eye.
Read also: Assault Again- 4000 doctors protest and go on a mass leave in Maharashtra
Meanwhile, post lunch, the PIL challenging the doctors strike came on hearing. The court while posting the matter for tomorrow directed the doctors to resume duties immediately. The doctors strike is reported to have not gone well with the honorable court, who rapped the doctors for going on strike
"It is a shame on the profession, if doctors go on strike like factory men then they are unfit to be doctors," the bench stated. It also said how can resident doctors be scared for their safety if regular doctors are continuing working.
The court also observed that if the doctors want to continue their strike then they should stay 100-feet away from hospitals, so that visiting patients can get treatment without any difficulty reports the Hindu. The daily adds that the court has stated contempt action should be taken against the striking doctors and directed the management of government hospitals to take disciplinary action against the doctors who are on a strike.
Regarding the increasing instances of violences against doctors, Chief Justice Chellur asked, "Why the public anarchy? It's madness," before asking the state pleader to explain the reason for the such action taken by the patients' relatives. She added, "I don't say doctors don't commit mistakes but, there are complications due to which patients lose their life. Every case cannot be due to negligence. And even if there is negligence there are redressal forums for it."
The next hearing is scheduled for tomorrow.
Some of the demands made by the striking resident doctors included:


Access to only two family members of the patients.


Alarm system to be installed in the hospitals.


Increase in the number of security personnel in the hospitals across the city.


Implementation of Doctor Protection Act 2010 to avoid such instances in future.


Immediate action against people attacking the doctors.


Installation of CCTV cameras.