Maharashtra: Gynecologist Wife, Anesthetist Husband suspended for Illegal MTPs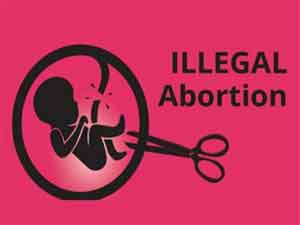 Mumbai: A doctor couple consisting of a gynaecologist wife and an anaesthetist husband have been suspended by the Maharashtra Medical Council (MMC) on account of allegedly carrying out illegal abortions in the hospital where they were practising doctors. The couple was arrested four months back and are currently under magistrate custody.
According to the media reports, doctor couple has been identified as Gynaecologist Dr Rupali Chougule and anaesthetist Dr Vijaykumar Chougule who were arrested on September 18 after a raid conducted at Chougule hospital at Ganesh Nagar by Sangli Municipal Corporation.
After received a complaint, Health Department of Sangli-Miraj Municipal Corporation, raided the Hospital  with the help of city police, which was running without taking license under MTP act. Police said after checking hospitals registers, police found total seven illegal abortion cases had took place in the hospital in last year without taking any permission from Municipal corporation or the state government's health department. While Dr Rupali was arrested on the spot her husband was arrested later.
A charge sheet against the doctor couple was filed according to which the couple was booked under sections of Medical Termination of Pregnancy Act, 1971.
According to the Sangli Police two medical representatives and an agent have also been named in the given charge sheet. The women found to have gone
abortion
in the hospital were from Karnataka, Sangli and Kolhapur.
Medical dialogues team has earlier reported that following the arrest of doctors in the Sangli area for illegal abortions, the District collector had written to the Medical Council of India to cancel the degree of a doctor involved in the case. The current suspension came following the request of the collector
Read Also: Cancel license of doctors involved in Illegal Abortions: Authorities write to Medical Council of India
It had been found that the couple was running the centre without taking license under Medical Termination of Pregnancy (MTP) act and had conducted more than 30 illegal abortions over a time period of one and a half year, reports the Indian Express.
Dr Shivkumar Utture, president of MMC told Indian Express, "We found that both the doctors were operating in a hospital not registered under Bombay Nursing Homes Registration Act."
The Sangli collector Vijay Kalam Patil provided an update on the issue, he stated, that "We are more cautious now after this racket came to light."
Read Also: Maharashtra: Three doctors booked for illegal abortions