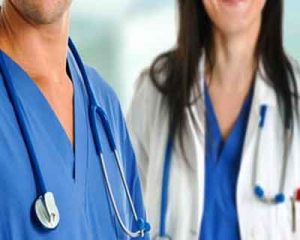 Thane  :  Two youths from Diva in district were arrested for allegedly molesting a 29-year-old doctor in her clinic, police said.
The incident occurred yesterday when Vishal Nimalkar (19) and Kiran Dalvi (20) had gone to the clinic located in Mumbra Devi Colony seeking treatment for an upset stomach, claiming that one of them had consumed food from outside. A third accomplice, Akash Nadkar (21)  had kept watch while the incident was ongoing, and is currently missing. The doctor at the time was alone in her clinic.
While Nimalkar works as a mason, Dalvi is a ward boy.
According to police, when they were being examined by, one of them touched her inappropriately.
"Vishal touched the doctor inappropriately, so she reacted by pushing him outside her cabin. Kiran was standing there and tried to hug and touch her inappropriately", said an officer of the Mumbra police station.
She was allegedly molested again when she was trying to leave.
The duo have been booked under sections 354 ( assault or criminal force to woman with intent to outrage her modesty) and 323 (punishment for voluntarily causing hurt) of the Indian Penal Code following the complaint lodged by the doctor.
"During the investigation, we also found that after the woman reacted to Vishal touching her inappropriately, he slapped her hard to keep her quiet. We will arrest the third accused soon. Vishal and Kiran were subjected to a medical examination. Vishal was found to be suffering from allergies," said S Bendre, investigation officer from Mumbra police station.
Akash stood guard at the clinic door so he could alert his friends if any patients showed up, said the police. Akash had also partially pulled down the clinic's shutters.
0 comment(s) on Maharashtra: Two youth held for molesting doctor in clinic