Maharashtra: Veterinary Centers to fall under PC-PNDT Act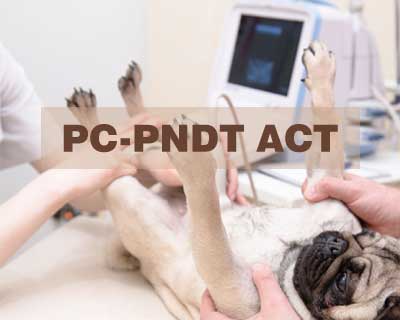 Pune: Taking a strong action against the misuse of ultrasound machines for the purpose of sex-determination in the country, the state authorities are now bringing veterinary clinics and hospitals under the ambit of PCPNDT Act. The logic is clear- all these centres have sonography machines installed with them and can be possibly used towards the illegal purpose of sex determination.
Under the new rules the authorities are making it mandatory for or all public and private veterinary hospitals to not only register with the municipal or district health departments but also file an affidavit stating that the machine will be strictly utilised for 'veterinary purposes'.
The move has been initiated by the animal husbandry department along with the PCPNDT officials, consequent to the fact that the current veterinary Act does not contain any mention in this regard.
"The sonography machines used by veterinary doctors could be misused for sex determination in humans. Since PCPNDT is a central act, we cannot alter the norms. These recent regulations have come after consultation with the Central Supervisory Board and the PCPNDT committee of the state." Dr GP Rane , deputy commissioner of animal husbandry department, informed
Pune Mirror
The new measure, announced in a government resolution on May 13,follows growing complaints from activists that families, especially in rural areas, are paying animal doctors to conduct such tests, which are banned as part of efforts to prevent female foeticide, reports
Mumbai Mirror
.
This is also following a sting operation whereby a vet doctor had been caught red handed charging Rs 10,000 for conducting sex determination tests.
As per the guidelines issued, the owners/operators of sonography machines will have to submit an affidavit saying that they will not use them for sex determination of human foetuses and they will have to declare the commitment on display boards in their respective centres. The machines will also have stickers saying only for veterinary purpose. Like hospitals for humans, the veterinary clinics will have to register transfers of employees, create awareness against human sex determination and allow inspection of the facility by public health government authorities every three months. Violation, if any, will ensure seizure of the machines and action under the PCPNDT Act reports
Midday
.
The regulation also mandates the recommendation by the deputy commissioner of the animal husbandry department before applying for registration.