Man awarded life term for Killing Sir Ganga Ram hospital Cardiologist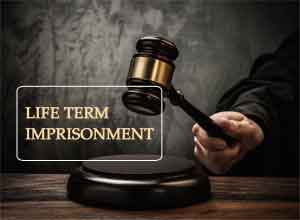 New Delhi: A Delhi court has awarded life term Jail to a former soldier for shooting dead a doctor of a reputed private hospital here in 2012, saying he had been "showing criminal bent of mind" even earlier.
Additional Sessions Judge Vinod Kumar sentenced former Indian Army Sepoy Dharmendra Kumar Tandan for murdering doctor Sanjiv Dhawan of Sir Ganga Ram Hospital after a scuffle.
As per the police, the man got into a quarrel while he was trying to forcibly take away the doctor's domestic help, whom he claimed to be in love with.
The court also convicted Tandan for attempting to murder a neighbour of the doctor and criminal trespass and awarded him seven-year jail term on these grounds.
"The convict had been showing a criminal bent of mind and criminal tendencies even prior to the offence in question," it observed.
"It stands proved beyond reasonable doubts that it was the accused who had fired at Sanjiv Dhawan and had killed him. I, therefore, convict the accused under Section 302 of the IPC for committing murder," the judge said.
According to the prosecution, the former soldier, who had retired from service in 2010, was living with a woman named Sangeeta who was working as a maid at the victim's residence in Rajinder Nagar area of central Delhi.
On September 18, 2012, Tandan asked the doctor to send Sangeeta with him and threatened to kill him otherwise, the prosecution alleged. The convict reached the house of the victim at night and trespassed into the neighbour's floor with a double-barrel gun creating terror while trying to find Sangeeta.
During the melee, he attacked the neighbour and attempted to kill him with an axe. He also fired a couple of shots out of which one critically hit Dhawan and killed him.
Tandan was apprehended with the weapon from a nearby area by the investigating officers.
The prosecution also alleged that Sangeeta had left Tandan after which he used to often indulge in scuffles with her landlord in whose house she was a tenant. It also claimed that he was imprisoned in Tihar Jail for one such incident.
The court, while convicting him, relied on forensic evidence produced by the police, including empty cartridge cases recovered from the spot and the gun recovered from the possession of the accused.
"Thus, it stands proved beyond reasonable doubt that it was the accused who had fired at Dr Sanjiv Dhawan and killed him," it said.