Many resident doctors at AIIMS Bhopal quit over salary issue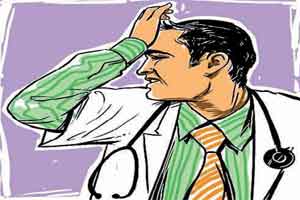 Resident doctors at
AIIMS
, which form the backbone of the hospital are facing salary crunch in Bhopal. Reportedly, a whole bunch of resident doctors at AIIMS in
Bhopal
are quitting now over
salary
issues.
As a result, there are many departments in the hospital which are staring at a crisis-they have either been closed or are on the verge of being closed.
After Pankaj Mittal, the HOD of Paediatrics department of (AIIMS) resigned, the department has been closed. The closure happened from November 01. Similarly, psychiatry department is on the verge of being shut as many doctors have been shown the door. Doctors who are still working with the hospital are now facing the issue of salary irregularities.
The issue has been raised earlier with the Union Ministry of Family Welfare. However, after the AIIMS Director Dr Sandeep Kumar left AIIMS, the issue lays buried in the dust.
As reported by the Free Press Journal, some senior office-bearer of the resident doctors association, AIIMS have said that situation is grim in AIIMS as doctors are not getting salaries on time. Somehow, the doctors were paid their salaries for October but it is not sure that they will get salaries for November. As per sources, account officer Rajesh Nigam does not regard resident doctors as permanent doctors of AIIMS so he keeps on creating problems whenever the issue of making payment of salaries arises. In-charge director of AIIMS, Dr Nitin M Nagarkar, while talking to Free Press, said, "AIIMS was gripped by problem of salary of the resident doctors but we have solved it. As far as closure of paediatrics department is concerned, the things are not like that. With resignation of HoD Dr Mittal, the department has not been closed and there are other doctors who are managing it." AIIMS Medical Superintendent Dr KC Tamaria said, "The resident doctors come and go and they are appointed on contract basis. No department is closed because of resignation of the HoD. As such there is no problem salary."