Massive Rs 1.5 crore Bond PENALTY for leaving MD, MS; Rs 2 crore for DM, MCh courses in Odisha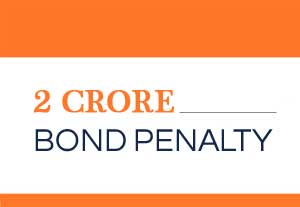 Bhubaneswar: In a gigantic move, the Odisha government has enhanced the bond penalty amount for PG medicos from Rs 36 lakh to Rs 1.5 crore for leaving MD, MS and Rs 2 crore for DM and MCh courses at state-run medical colleges.
The government believes the policy will address the shortfall of doctors serving with the government.  As per the media, the state is reported to have 2,400 vacancies in 6,500-plus sanctioned posts of doctors. Hence, this policy is being deemed as the primary reason for the enhancement of the bond penalty.
The announcement to this effect was made by the State Health and Family Welfare Minister N K Das. He informed PTI, "The decision was taken in the wake of a majority of students leaving the state after completing their post-graduation. The revised policy will come into force from this academic year."
The bond policy is compulsory for all candidates taking admission in government medical colleges, either under state quota or the all-India quota and in PG medical or dental courses.
"Odisha has been spending a huge amount of money for each student, and they should serve the state for at least two years," Das said. He said the government has already made it mandatory for all students of state-run medical colleges to practice in the state for a minimum of two years.
Odisha has seven state-run medical colleges, out of which three have post-graduate and super speciality courses.
The policy, however, lapses on its own if the state government fails to provide employment to a candidate within six months of completing the course, officials said. At present, about 4,000 posts at different levels have been lying vacant due to the shortage of medical personnel, they said.
However, aggrieved by the drastic revision in Bond Policy; the Odisha Medical Services Association (OMSA) showed its condemnation.
Speaking to TOI, OMSA president Nirakar Bhatt said, "The state government should clarify as to why it took such a decision in a hurry without consulting organisations like ours. We will oppose the decision." He added, "This bond amount is not for private medical colleges. Good students may choose private medical colleges in order to get exposure soon after completion of PG or super speciality courses."
"Why is this policy only for government, and not for private medical colleges? This policy will help private medical colleges fill up seats at a higher rate," the association pointed out.
Critiquing the move, Indian Medical Association (IMA) national central working committee member, Dr Ananga Dwivedi, told The Indian Express, "The state Health Department has been projecting policy as per their dreams, and not the reality. Give doctors infrastructure inside and outside hospitals (first). Are there decent toilets for doctors in remote places? Are machines they need for tests available?"
In the meanwhile, the minister also apprised the media that state is mulling over to increase the retirement age of doctors in medical colleges from 68 years to 70 years.