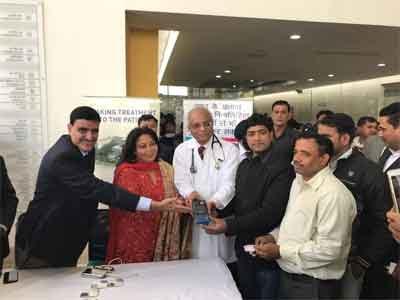 Mathura: As an affirmative support towards government's decision for a cashless economy Nayati Multi Super Specialty Hospital partnered with Punjab National Bank to install the first Micro ATM in the region in the hospital premise on a trial basis. The micro-ATM is a portable machine which is based on a mobile phone connection. Customers after getting their identity authenticated can withdraw money from their bank accounts.
Ms. Niira Radia, Chairperson, Nayati Healthcare said, "To facilitate unhindered patient care post demonetization we had taken various steps – from free OPD in the hospital, to outreach camps, to cashless transactions such as e-payment, net banking, credit and debit card, e-wallets etc. We understand and appreciate that it will take some time before people in this region get used to using e-payment options. PNB micro ATM is one formal direction that we have taken in addition to various cashless payment options. I am truly grateful to the management of Punjab National Bank who has come forward to install this new age Micro ATM on a trial basis at the hospital premise and have assured that a full- fledged ATM will soon be made available. We have also noticed that many patients do not have bank accounts. Patients will now be able to open the bank accounts with PNB in the hospital itself."
"We are proud to state that we are the only hospital in the region offering so many payment options to address the needs of the patients" she further added.
................................ Advertisement ................................
Explaining the services that will be provided through the Micro ATMs, Yateesh Wahal, Executive Director Finance at Nayati Healthcare stated, "The installation of the micro ATM at the hospital premise will ease the problem as patients will no longer have to queue outside banks or ATM. The money will come from the cash drawer of the Bank Mitra / Business Correspondent. The basic transaction types that will be supported by micro ATM are, Withdrawal, Fund transfer and Balance enquiry. Transactions will be through RuPay/Debit cards and even Aadhaar based transactions will be possible. Customer identification through this hand-held device will be done through biometric or PIN number. "
Studied at Indraprastha College for Women (Delhi University), completed in year 2014. Currently working with Medical Dialogues, a online Medical news paper dedicated for healthcare Professionals.
................................ Advertisement ................................
................................ Advertisement ................................
0 comment(s) on Mathura: Nayati Multi Super Specialty Hospital partners with PNB to install micro ATM