Max Picks up 76% stake in Pushpanjali Crosslay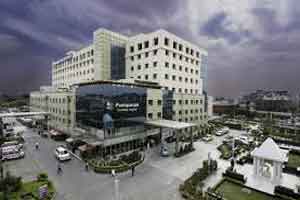 Max India Ltd announced that Max Healthcare Institute Ltd, an equal joint venture between the company and Life Healthcare, South Africa, will buy a controlling stake of 76% in national capital region-based Pushpanjali Crosslay Hospital.

The announcement on Thursday said Max Healthcare had executed an agreement to acquire a 76% stake in Pushpanjali Crosslay Hospital through a combination of fresh investment and acquisition of shares from existing promoters for an aggregate sum of Rs.287 crore.

Situated 4km from Max Super Speciality Hospital in Delhi's Patparganj locality, the 340-bed Pushpanjali Crosslay Hospital is located along the East Delhi-Ghaziabad-Noida corridor.

"This acquisition comes at a fortuitous time for us, when Max Healthcare has turned profitable and ready for growth," said Rahul Khosla, chairman, Max Healthcare, and managing director, Max India.

The hospital, which has the capacity to expand up to 540 beds has been certified by the National Accreditation Board for Hospitals and Healthcare and the National Accreditation Board for Testing and Calibration Laboratories, and has been operational since 2010. It was founded by Dr Vinay Aggarwal along with a cooperative of around 250 doctors and 450 nursing staff. It had reported revenue of Rs.143 crore in fiscal 2014.

"This is a precursor to many more such acquisitions," said Mohit Talwar, deputy managing director, Max Healthcare, "and this transaction is a step in the right direction." The firm's expansion plans include a stand-alone oncology hospital near Greater Noida, where it has a 100-bed hospital. The chain also recently acquired land near Chandigarh for a facility.