Maxi Vision Eye Hospitals launches advanced Laser System "Catalys femto second laser" device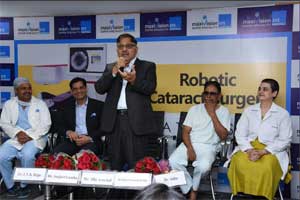 Hyderabad: Hyderabad-based MaxiVision Super Specialty Eye Hospital takes pride to announce the launch of World's best and advanced laser system "Catalys femto second laser device" in its Somajiguda branch of Hyderabad .

Catalys device has been designed in such a way that it can complete the cataract surgery in few minutes in a safe and secures way as it is totally a robotic procedure with 3D imaging technology, while Cataract surgery in generally takes around an hour to complete the process. Dr.Kasu Prasad Reddy – Founder of MaxiVision Eye Hospitals presided over the function and Tollywood Film maker Allu Aravind unveiled the device and commissioned the facility to the citizens of Hyderabad.Surjit Lamba, Associate Director, sales South Asia - J & J Vision Surgicals was also present in the programme. For the benefit of the needy patients, Maxivision will run a special inaugural price scheme for the treatment throughout the month of March

Speaking on the occasion Dr.Kasu Prasad Reddy – Founder & Mentor of MaxiVision Eye Hospitals said, the catalys precision laser system is indicated for use in patients undergoing cataract surgery to remove crystalline lens. Its intended use in cataract surgery include anterior capsulotomy,Fragmentation  and the creation of single plane and multi place arc cuts / incisions in the cornea. Each of which may be performed individually or consecutively during the same procedure. With speedy recovery most normal activities, except for strenuous activities, will not be restricted post cataract surgery. And patient sight may continue to improve for several days or weeks after surgery.

Speaking on the occasion Mr.Sudheer, COO, said, Maxivision has always been a fore runner in researching and bringing most advanced technology in eye care, available in the world, to India. Introducing Femto Cataract, Victus, which was co-invented by Dr.Kasu Prasad Reddy, stands testimony to this. Our focus is to give the best visual outcome  with the best technology advances happening in the world. Catalys is the latest investment of 3 Crore, in our Cataract Care services, which is one of the best technology available in the world, with robotic technology.  This technology is one amongst very few available in India, and our doctors have performed over 300 eyes on this in our centre before dedicating this to the society.