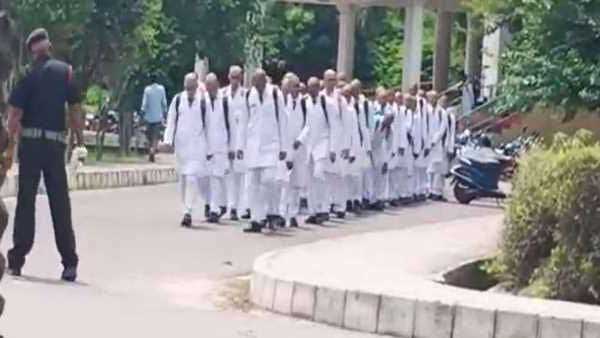 New Delhi: Responding to the media reports on brutal ragging of first year MBBS students at UP's Safai medical college (UP Rural Institute of Medical Sciences), the apex medical regulator Medical Council of India Board of Governors (MCI BOG) has now issued a show-cause notice to the medical college for its inaction in the matter
Taking note of alleged mass ragging at a university in Etawah, the Medical Council of India has asked the varsity why it should not be fined and declared ineligible for new admissions for a minimum period of one year.
The Board of Governors in Supersession of Medical Council of India (MCI BoG) also asked why the senior batches admitted to MBBS course in the varsity be not suspended from attending classes for a minimum period of one month.
................................ Advertisement ................................
Several first-year students of Saifai Medical University were made to parade on the campus with their heads tonsured.
................................ Advertisement ................................
Aslo read:- Brutal Ragging at UP Medical College: More than 100 MBBS students parade in campus with shaved heads
"Why the institute be not declared as an erring medical college and be declared as ineligible for preferring any application under Section 10 (A) of the Indian Medical Council Act 1956 for a minimum period of one year extendable by such quantum by the Council as would be commensurate with the wrong," the show cause notice sent by the MCI to the varsity read.
"Why exemplary fine of Rs 1 Lakh for each incident of ragging, that of 150X1 Lakh, that is equal to Rs 150 Lakhs be not imposed upon the institute," it asked.
The MCI asked the university to reply within 24 hours, failing which it shall be presumed that it has nothing to say in the matter and punishment as indicated above shall be imposed upon the institution, the notice said. Attached is the notice below
A purported video clip on social media showed the students in white coats walking in a single file, bowing their tonsured heads and also making "salaam" gestures. Another clip showed them in rows.
Even while promising "strict action" on a news channel, University Vice Chancellor Raj Kumar had on Wednesday appeared to condone "mild" cases of this kind.
He said ragging at one time used to be a way of inculcating "sanskar" (tradition or manners) of the world of medicine among students.
Aslo read:- Ragging at AIIMS: 9 MBBS students suspended
According to the notice, the Council Office has taken note of the reports that have appeared in print and electronic media regarding the ragging of the first year medical students in the college and stated that it brings out the "complete failure of the College authorities in addressing the menace of ragging".
Author Details
Medical Dialogues Bureau consists of a team of passionate medical/scientific writers, led by doctors and healthcare researchers.  Our team efforts to bring you updated and timely news about the important happenings of the medical and healthcare sector. Our editorial team can be reached at editorial@medicaldialogues.in. Check out more about our bureau/team here
................................ Advertisement ................................
6 comment(s) on Shaved Heads of MBBS students : MCI threatens Rs 1.5 crore fine, debarment to Safai Medical College