MBBS Seat Blocking at Karnataka medical colleges: IT raids recover Rs 5 crore from top Politicians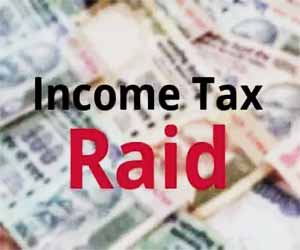 Bengaluru: After Tamil Nadu, controversy has erupted in Karnataka over MBBS admissions made this year wherein cases of alleged forgery in the National Eligibility cum Entrance Test (NEET) exam by impersonation and major seat blocking scam have surfaced.
Medical Dialogues has extensively reported about the NEET scam that got exposed in Tamil Nadu after which the Madras HC directed the probe into the issue to go pan India.
Read Also: Probe into NEET scam to go Pan India: Madras High Court
Now, in Karnataka, based on the tipoff that the MBBS seats were being sold at the rate of Rs 50-60 lakh for undeserving candidates whose ranks were below even 8 lakh, the Income Tax department has conducted raids at 2 medical colleges wherein the authorities have seized about Rs 5 crore cash so far.
The issue of seat blocking during medical counselling is an issue that crops up every year. Seat Blocking is an act by high ranking candidates first opting for a particular seat in a round and then not joining the same, making the seat available for the next round. It is alleged that many medical colleges collude with the high ranking candidates to indulge in seat blocking so that popular MBBS seats can be made available for lesser deserving candidates who are willing to pay exorbitant price.
According to recent media reports, the raids are in connection with a multi-crore tax evasion case linked to the NEET exams and being conducted against the former Karnataka ex-deputy chief minister G Parameshwara and former MP R L Jalappa's son J Rajendra.
Two medical colleges are affiliated to Sri Siddhartha Academy of Higher Education, where Parameshwara is the chancellor. The third institute is affiliated to Sri Devraj Urs Academy of Higher Education and Research, whose trust is headed by Jalappa.
Since the medical colleges were deemed varsities, they were required to fill their seats via merit on NEET and did not have any local reservations.
A senior I-T official, who has been monitoring these raids informed TOI that they have found 168 out of 300 MBBS seats allotted under management quota by the three private medical colleges (which are deemed universities), were blocked and later sold to the students, who secured low ranks. These seats were allegedly sold at a minimum price of Rs 50 lakh per seat while the actual fee for these seats is only about Rs 6 lakh.
The merit rounds stop at one lakh rank threshold, however, in one case the officials found that a candidate with 8.2 rank was admitted in one of these colleges, reports HT.
The massive search has resulted in the seizure of cash and incriminating documents proving the alleged irregularities in medical admissions, the IT sources informed the media.
The search operations have also allegedly uncovered evidence of high capitation fee collected and the same being used to buy land in the name of the trustees in Nelamangala.
One of the trustees had recently bought land in Nelamangala, making payment in cash, suspected to be proceeds of the capitation fee collected during the recent admission season. I-T officials searched the premises of the person who sold the land and recovered Rs 1.6 crore of unaccounted cash, reports The Hindu.
In a statement to news agency ANI, Director General of Income Tax, Patanjali, said that Rs 4.52 crore were recovered after Thursday's raids at 30 premises-across Karnataka, Rajasthan and Delhi-of Parameshwara, who is also a former Karnataka Pradesh Congress Committee (KPCC) president.



Director General of Income Tax, Patanjali: A total of Rs 4.52 Crores were recovered in the Income Tax raids yesterday.


The Income Tax department conducted raids at around 30 premises of former Deputy CM of Karnataka G Parameshwara yesterday. #Karnataka pic.twitter.com/KGk7hTUzQH

— ANI (@ANI) October 11, 2019
Read Also: MBBS admission to AIIMS, JIPMER via NEET only: Dr Harsh Vardhan