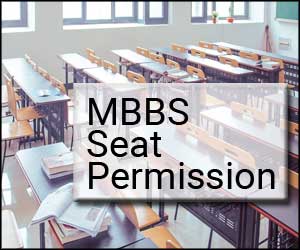 The move makes an effort to ease out the permission/recognition of MBBS seats that are to be granted to medical colleges 
New Delhi: Medical college recognition in India is a very tedious process, both for the medical college as well as the Medical Council of India itself. Medical colleges have to conform to a very rigid layout of infrastructure and manpower requirements both to start a course and then to increase the number of seats in that course. Failure to have the requisite infrastructure indeed proves to have devastating effects when the council after its various set of inspections decides not to grant permission to the medical college in case of infrastructure shortfalls.
One of the key issues in this whole process is the black and white nature of the decision-making process, that is if the medical college meets the requirements then it gets a yes on the permission, otherwise its a NO from the council.
Offering a middle ground to this black and white process, the MCI Board of Governors recently came up with the decision to make provision to allow medical colleges to offer less number of MBBS seats than applied number in case the Institution fulfils the requirement for less number of seats as per the regulations. The same was forwarded to the Ministry of Health For approval.
The ministry, however, desiring to obtain public comments on the matter, sent the matter back to the council, following which the MCI has now called for comments on the matter. Please send your comments on secy-mci@nic.in and ug.mci@nic.in within 15 days i.e. upto 15th February, 2019 for further consideration in the  matter
In particular the notice states
As per the decision of Board of Governors, an amendment was sent to Ministry of Health & Family Welfare with regard to make provision to offer less number of MBBS seats than applied number in case the Institution fulfils the requirement for less number of seats in "Establishment of Medical College Regulations, 1999" and in "The Opening of a New or Higher Course of Study or Training (including Postgraduate Course of Study or Training) and Increase of Admission Capacity in any Course of Study or Training (including a Postgraduate Course of Study or Training) Regulations, 2000.

The Ministry desired to obtain comments of the Public for consideration.

In view of above, the proposed amendments of the Council on the above matter are placed in public domain.

Please send your comments on secy-mci@nic.in and ug.mci@nic.in within 15 days i.e. upto 15th February, 2019 for further consideration in the  matter
106 comment(s) on MCI Board of Governors propose to ease MBBS seat permissions at Medical colleges, invite comments