MCI, DCI must do away from regulating Education, Limit to regulating Professional Practice: NEP 2019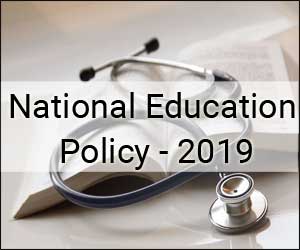 New Delhi: Professional Councils such as Medical Council of India (MCI), Dental Council of India (DCI), Indian National Council (INC) should focus on regulating the professional practice and move away from regulating professional education, the newly released draft of National Education Policy 2019 has stated
The draft was submitted to the Union Human Resource Development Minister, Ramesh Pokhriyal 'Nishank' and Minister of State for HRD, Sanjay Shamrao Dhotre in New Delhi by Committee led by the Chairman Dr. Kasturirangan on Friday May 31, 2019 and touches down various aspects of the educational system in India, including school, professional and vocational education.
The draft makes several recommendations for the medical education system in India. One of the primary recommendations includes removing the role of councils as apex regulators of their respective education setups
Professional education must also be separated from professional practice. In the healthcare sector, for example, the professional practice requires considerable oversight by a body of professionals, with regard to the need for updating the knowledge of doctors and other medical practitioners on a regular basis, and with regards to the various protocols and procedures followed for treatment. For the same professional councils, such as the MCI, INC, DCI and several others, who regulate professional practice to also specify curriculum and regulate professional education is an undesirable anomaly that must be set right immediately
Taking this forward the policy envisages establishment of one common higher education regulator—National Higher Education Regulatory Authority (NHERA)— subsuming all other bodies like UGC, AICTE and others into it.
..the foundational principle of this Policy (on this matter) is that education for professional fields must be governed and regulated as a part of the education system, while professional bodies should govern and regulate the professional fields themselves.
The policy envisages limiting the role of the council of professional regulators and guides for setting up frameworks, which would be then used by educational institutions to setup their respective curriculum
All the other current regulatory authorities such as NCTE, AICTE, MCI, BCI, etc. shall transfer their regulatory function to NHERA which shall become the sole regulator for higher education. These bodies may transform themselves into PSSBs (Professional Standard Setting Bodies).

The overall regulatory framework created for higher education will be extended to professional education, and NHERA will remain the sole regulatory authority.

The regulatory role of the 17 or more professional councils such as the BCI, ICAR, MCI (or the proposed National Medical Commission - NMC), INC, VCI and others, with regard to professional education, will be converted to being PSSBs as far as education is concerned. They will not specify curriculum. Instead, they will specify professional standards and / or a curriculum framework, against which educational institutions will prepare their own curricula.
The policy also calls for autonomy to the HEIs ( higher educational establishments) for reforms in their systems
Improvement of academic performance including reforms in curriculum, teaching, and preparation of teachers will be done through providing autonomy to the HEIs themselves. All institutions offering professional education will also be mandatorily accredited once every 5 years, by accreditation agencies empanelled by National Assessment and Accreditation Council (NAAC) in consultation with the professional councils. Independent accreditation agencies with the necessary mandate to accredit all professional streams of education will be empaneled.