MCI guidelines arbitrary, blatantly discriminatory: Disability rights group tells Nadda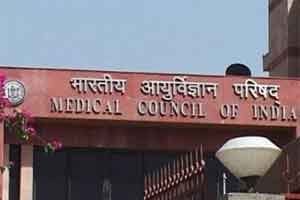 New Delhi: Terming the Medical Council of India (MCI) guidelines on disability as "arbitrary" and "blatantly discriminatory" in nature, a rights group has written to Health Minister J P Nadda today to ask the statutory body to revise it.
The National Platform for the Rights of the Disabled has said that in the MCI's process of framing guidelines for the sector, the involvement of doctors with disabilities and organisations representing disabled persons, was missing.
"These guidelines are arbitrary and blatantly discriminatory in nature. Certain pre-conceived notions and prejudices are patently visible. They have been drafted without proper application of mind, oblivious of the best practices worldwide and divorced from the reality that advances in science and technology have become great enablers," the letter from the organisation said.
The NPRD also alleged that a psychiatrist from the All India Institutes of Medical Sciences (AIIMS) framed the guidelines for dyslexia and pediatricians, psychologists and neurologists, who normally see dyslexic candidates, were not involved.
"It would be in the fitness of things to recall that in a training conducted last year for doctors on the new scales to assess autism, it was doctors from the pediatrics department of the AIIMS who were involved and not psychiatrists.
"These unapproved MCI guidelines also declare ineligible, candidates with locomotor disabilities, whose percentage is 80 per cent or higher. Suffice it to cite the example of Dr Suresh Advani, a hemato-oncologist, a wheelchair user with 80 per cent disability. Dr Advani, as per the MCI guidelines is not fit to become a doctor," the letter said.