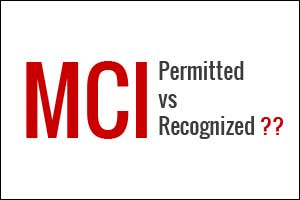 New Delhi: Recounting the plight of many students who take admissions in medical colleges based on MCI Permitted seats and then suffer on account of such seats not being recognized by the Medical Council of India, a PIL has now been filed with the apex court for Declaring Practice Of PG Admission On 'Permitted Seats' As Unconstitutional.
Livelaw, a legal newspaper has reported that a PIL has been filed by a group of doctors petitioning the Supreme Court under Article 32 of the Constitution seeking to declare the classification of admission on 'Recognized Seat' and 'MCI Permitted Seat' in PG admissions as manifestly arbitrary and to declare the practice of admission on such a permitted seat as unconstitutional for being violative of Articles 14, 19(1)(g) and 21 of the Constitution of India.
The petitioners are doctors who had taken admission in various MCI permitted PG courses across the country. However, despite they having completed these courses, the degrees have been recognized by the MCI, even till now. The petitioners alleged that the college brochures did not specify that these were permitted PG seats ( and not recognised PG seats ) . Only  at the time of counselling they were informed about the same. Morever, even with the passage of time, these seats are still not recognised by the Medical council of India.
The petitioners pointed out that because of passing out of a non-recognized courses , the doctors have to face a number of hardships including having no right to practice the specialization in which degree is taken including no registration of said degree with council, denial of employment, even demotion, and termination of services in some cases, medico-legal liabilities. Further, doctors have to undergo humiliation for holding unrecognized degree and lose opportunities of further study as the degrees are not recognised
The petitioners contested that the college and the MCI were playing with the future of qualified doctors by not taking a decision as to recognition of the said courses and students were left without option as all entrance examinations for the academic session for the academic session were completed and the students were coerced to take admission to study further else they had to sit at home even after becoming doctors.
Adding that MCI should have informed the students through a notice about the dangers of permitted seats and not played with the future of the students , the petitioners have now asked the apex court, to declare this practice of admissions On 'Permitted Seats' As Unconstitutional.
41 comment(s) on MCI Permitted Versus MCI recognised Seats: PIL in Supreme Court