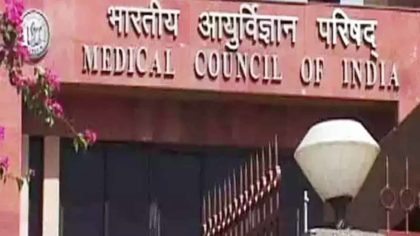 New Delhi: Pronouncing its decision on the controversial case that had erupted in 2015 after the West Bengal Medical Council's president had allegedly referred a relative's dog for dialysis at the state-run SSKM Hospital, the Ethics Committee of the Medical Council of India (MCI) recently reprimanded the three doctors involved.
The three doctors in question included Dr Nirmal Majhi, President West Bengal Medical Council; Dr Pradip Kumar Mitra, the then Director, SSKM Hospital and Dr Rajendra Pandey, HOD Nephrology Department at the hospital. The controversial case has its origins in 2015, after media reports surfaced narrating the incident of Dr Majhi, taking a relative's dog to the hospital for dialysis. A Mail Today report narrating the incident described that Majhi referred the dog to the nephrology department of SSKM Hospital and following up to Maji's request, nephrology department head Dr Rajendra Pandey forwarded the matter to hospital's director Dr Pradeep Mitra. "An unidentified dog advised for hemo-dialysis," the note to Mitra stated
The dialysis which was planned but not carried out after objections poured in from the various doctors at the hospital, stating that the hospital is meant for humans, not canines. Amidst all the controversy Dr Mitra was soon transferred from the post of director at the hospital.
................................ Advertisement ................................
Questioning the ethics of the doctors, Dr Kunal Saha, the President, People for Better Treatment (PBT) filed a complaint with West Bengal Medical Council. With no order on the matter, he filed an appeal with the MCI and in May 2019, the MCI, Chairman Ethics Committee took up the matter with both the parties filing in their responses. 
................................ Advertisement ................................
The committee after deliberating on the matter that while the procedure was not performed, but was planned by the doctors- called their intent to attempt the procedure condemnable and decided to direct them to refrain from attempting such procedure in future.
The Committee deliberated upon the matter at length and perused the document available and noted that the three doctors were involved in hatching a plan to perform dialysis of a pet dog using the dialysis machine at SSKM Hospital, Kolkata. However, the plan was not executed. The Committee is of the unanimous view that since the procedure was not performed but only planned by the three doctors, namely Dr. Pradit Kr. Mitra, Dr Rajendra Pandey & Dr Nirmal Maji their intent to attempt the procedure is condemnable and decided to direct them to refrain from attempting such procedure in future.
Author Details
Meghna A Singhania is the founder and Editor-in-Chief at Medical Dialogues. An Economics graduate from Delhi University and a post graduate from London School of Economics and Political Science, her key research interest lies in health economics, and policy making in health and medical sector in the country.
She can be contacted at editorial@medicaldialogues.in.
Contact no. 011-43720751
................................ Advertisement ................................
2 comment(s) on MCI reprimands top doctors for attempting dog dialysis at SSKM hospital