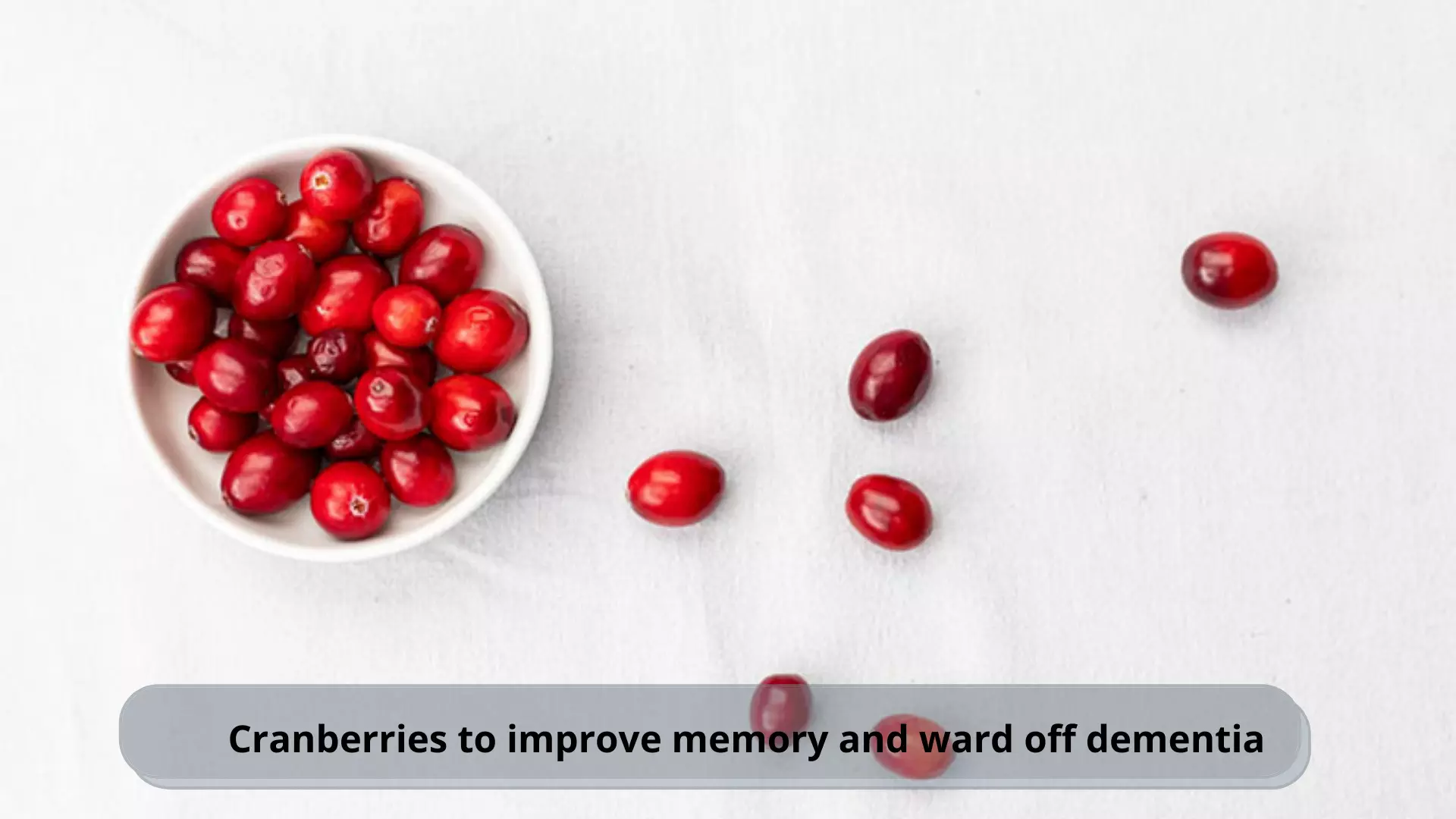 Overview
According to new research published in the Frontiers in Nutrition which highlights the neuroprotective potential of cranberries,it was found that adding cranberries to your diet could help improve memory and brain function, and lower 'bad' cholesterol in the body.
The research team studied the benefits of consuming the equivalent of a cup of cranberries a day among 50 to 80-year-olds and They hoped that their findings could have implications for the prevention of neurodegenerative diseases such as dementia.
It has been predicted that dementia is expected to affect around 152 million people by 2050. There is no known cure, so it is crucial that modifiable lifestyle interventions, such as diet, should be looked into that could help lessen disease risk and burden.
Several studies have shown that higher dietary flavonoid intake is associated with slower rates of cognitive decline and dementia. And foods rich in anthocyanins and proanthocyanidins, which give berries their red, blue, or purple colour, have been found to improve cognition.
The team investigated the impact of eating cranberries for 12 weeks on brain function and cholesterol among 60 cognitively healthy participants. Half of the participants consumed freeze-dried cranberry powder, equivalent to a cup or 100g of fresh cranberries, daily. The other half consumed a placebo.
The study is one of the first to examine cranberries and their long-term impact on cognition and brain health in humans. The results showed that consuming cranberries significantly improved the participants' memory of everyday events (visual episodic memory), neural functioning and delivery of blood to the brain (brain perfusion).
The cranberry group also exhibited a significant decrease in LDL or 'bad' cholesterol levels, known to contribute to atherosclerosis. This supports the idea that cranberries can improve vascular health and may in part contribute to the improvement in brain perfusion and cognition.
Hence, it was concluded that the participants who consumed the cranberry powder showed significantly improved episodic memory performance in combination with improved circulation of essential nutrients to important parts of the brain that support cognition specifically memory consolidation and retrieval.
Speakers

Dr. Nandita Mohan is a practicing pediatric dentist with more than 5 years of clinical work experience. Along with this, she is equally interested in keeping herself up to date about the latest developments in the field of medicine and dentistry which is the driving force for her to be in association with Medical Dialogues. She also has her name attached with many publications; both national and international. She has pursued her BDS from Rajiv Gandhi University of Health Sciences, Bangalore and later went to enter her dream specialty (MDS) in the Department of Pedodontics and Preventive Dentistry from Pt. B.D. Sharma University of Health Sciences. Through all the years of experience, her core interest in learning something new has never stopped. She can be contacted at editorial@medicaldialogues.in. Contact no. 011-43720751