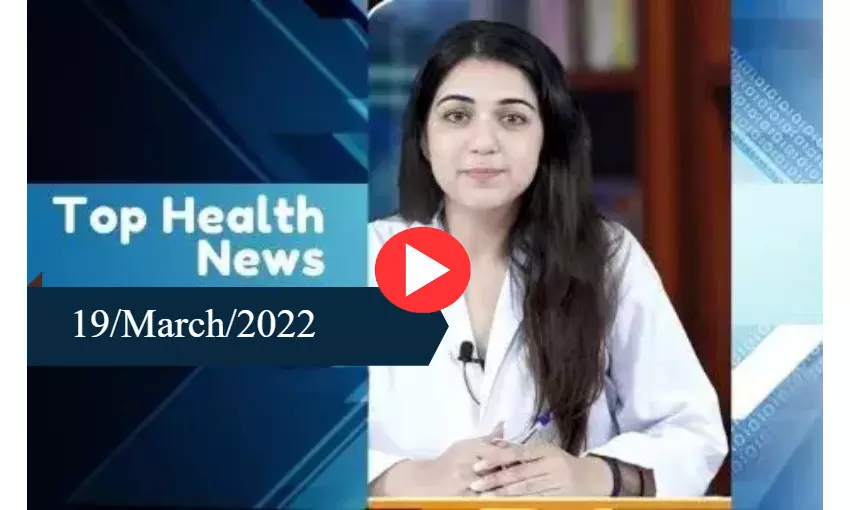 Overview
Here are top health stories for today:
67 %MBBS Doctors Skipped Bond Service Duty, Gujrat Govt To Recover Rs 38.15 Crore
In a stunning revelation, the Gujarat state authorities has informed the assembly that around 67% of MBBS medical doctors have skipped bond carrier obligation inside the final two years.
offering specific figures, the authorities has knowledgeable that best 608 out of 1,879 MBBS doctors stated for duty in 2020 and 2021 and the government has to get better an amount of Rs 38.15 crore from the ones absent doctors as bond payment, reports TOI.
Kerala HC Directs Centre To Consider Inclusion Of 3 Medical Colleges As Centres Of Excellence To Treat Rare Diseases
The Kerala High Court has directed the Centre to expeditiously take an appropriate decision on the LDF government's request to include three State-run medical colleges here as centres of excellence for treatment of rare diseases.
A Bench of Chief Justice S Manikumar and Justice Shaji P Chaly said if the Centre takes a favourable decision on the request, children and others suffering from rare diseases could be treated within the State of Kerala and there could be sufficient contribution from the Central government as well.
For more information check out the full story on the link below:
Kerala HC Directs Centre to consider inclusion of 3 medical colleges as centres of excellence to treat rare diseases

BFUHS Issues Notice On Resignation Of Allotted NEET, NEET PG Seats
through a written word Baba Farid university of health Sciences (BFUHS) has informed the candidates and Institutes taking part in NEET UG/PG Counseling 2021-22 about the resignation from allocated seats in spherical 2.
BFUHS, in its notice, said that the college is receiving several queries from the applicants concerning resignation of UG/PG seat from allocated faculties from their joined seats in round II.
Insufficient Sleep lead to Heart Attack, Stroke, Heart Failure
Getting sufficient sleep is not only important for your electricity stages however relates to heart health. An irregular sleep schedule takes a toll on the heart. The cumulative outcomes of sleeplessness can result in heart troubles at a rapid charge. bad sleep habits can negatively impact blood stress and increase the possibilities of heart failure and coronary heart assaults, warn doctors.
Dr. Bipeenchandra Bhamre, a consultant Cardiac medical professional at Sir H. N. Reliance Foundation Hospital and Research Centre in Mumbai said "folks that are sleep-disadvantaged have a tendency to have an expanded heart fee and pressure ranges. no longer sound asleep well will increase CRP or C-reactive protein, which is released attributable to strain and inflammation.
Digital Health Platform Tata 1mg Launches Its First Reference Lab In Delhi
Tata 1mg, India's largest digital health platform today announced the launch of its first Reference Lab based in Delhi, which was inaugurated by Dr. Indu Bhushan - Former CEO, Ayushman Bharat. The state of the art reference diagnostics laboratory enables an extensive catalog of tests, can process upto 4000 tests an hour and joins Tata 1mg's already extensive nationwide network of 8 diagnostic labs that serve over a million customers each year, across 30 cities.
Since its foray into e-diagnostics in 2016, Tata 1mg has established itself as one of India's leading diagnostics players, earning consumer trust and loyalty, by consistently delivering a superlative experience. The brand enjoys one of the highest customer satisfaction scores in the healthcare industry, on the back of industry-leading on-time collection rates, fast report delivery, clinically robust processes and a highly professional and trained team.
For more information check out the full story on the link below:
Digital health platform Tata 1mg launches its first Reference Lab in Delhi
Speakers

Roshni Dhar, a Mass com graduate with a soft corner for health happenings, joined Medical Dialogues as a news anchor in 2021. Inspired by her mother who is a gynaecologist, she likes to keep herself and the world updated on the occurring in the medical field. She covers various aspects of health news for MDTV at Medical Dialogues. She can be reached at editorial@medicaldialogues.in.