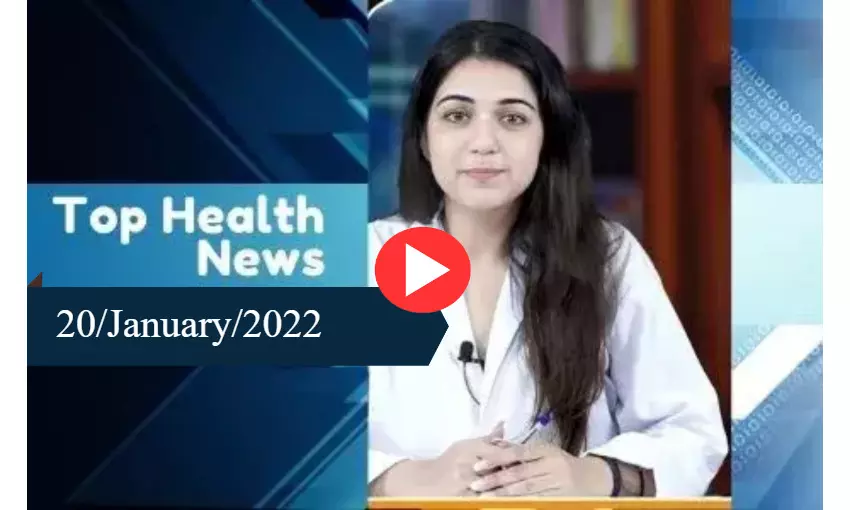 Overview
Here are todays top health stories
India reports over 3.17 lakh new Covid cases, 491 deaths
Covid-19 third wave hits harder again on the health system, on Thursday more than 3.17 lakh (3,17,532) new Covid-19 cases reported in India in the last 24 hours ending at 9 am ,marking a 12 percent increase in new cases from Wednesday. The total number of Omicron 1.1 cases rose to 9,287 on Thursday, by 3.63 percent more than yesterday. Up to 1.21 Covid patients were infected with this deadly virus per day.
MCC NEET Counselling For MBBS, BDS Admissions 2021
India takes a foot forward in medical admissions, with the commencement of NEET Counselling 2021, the Medical Counselling Committee (MCC) has released the in detail conduct of the admission process including eligibility criteria and reservation policy for candidates seeking MBBS, BDS, BSc Nursing admissions under certain quotas as well as the counselling stages.
For more information check out the full story on the link below:
MCC NEET Counselling for MBBS, BDS Admissions 2021: Check out Counselling scheme, eligibility criteria, details
Bharat Biotech Receiving Reports On Wrong COVID Vaccine Administration In 15-18 Years Old
Vaccination is crucial during the on going pandemic and vaccinating the entire population is a huge responsibility along with containing the spread of virus. Bharat Biotech on Tuesday said it is receiving several reports that children in the age group of 15-18 years are being administered COVID-19 vaccine other than Covaxin.
Requesting health workers to be vigilant and ensure that only Covaxin is administered to that particular age group, Bharat Biotech in a Twitter post said its vaccine is the only approved COVID-19 jab to be administered to children in the age group between 15 and 18.
For more information check out the full story on the link below:
Bharat Biotech receiving reports on wrong COVID vaccine administration in 15-18 years old
PG admissions in CMC Vellore to be as per minority merit list of Tamil Nadu: SC
Medical admissions were held up for long, court orders to finish the admissions is crucial as more doctors are needed during difficult times. In a significant order, the Supreme Court, while denying relief to Christian Medical College Vellore, CMC Vellore, has directed that the PG medical seats in the institute for the academic session 2022-2023 would be filled from the NEET merit list prepared by the Tamil Nadu government only.
With this, the State of Tamil Nadu will be allowing students for PG admissions to Christian Medical College Vellore for the academic year 2021-22 from the NEET merit list of students belonging to the Christian minority after counselling is conducted by the State Selection Committee.
For more information check out the full story on the link below:
Supreme Court denies relief to CMC Vellore, Admissions via state Merit lists only
Doctor Shot For Alleged Medical Negligence, Reveals Probe.
Doctors are bound to do their duty despite their emotional and personal opinion with any patient,Unveiling the revenge angle, the police investigation has found out that the Yavatmal based doctor was shot for alleged medical negligence while treating one of the family members of the accused two years ago.
The relative of the five accused was treated by the deceased doctor after he had met a bike accident in 2019 and he ultimately died. Accusing the doctor of negligence, the family members of the patient had also threatened him back then and they had been looking for an opportunity to get back at the doctor, adds Indian Express.
For more information check out the full story on the link below:
Speakers

Roshni Dhar, a Mass com graduate with a soft corner for health happenings, joined Medical Dialogues as a news anchor in 2021. Inspired by her mother who is a gynaecologist, she likes to keep herself and the world updated on the occurring in the medical field. She covers various aspects of health news for MDTV at Medical Dialogues. She can be reached at editorial@medicaldialogues.in.