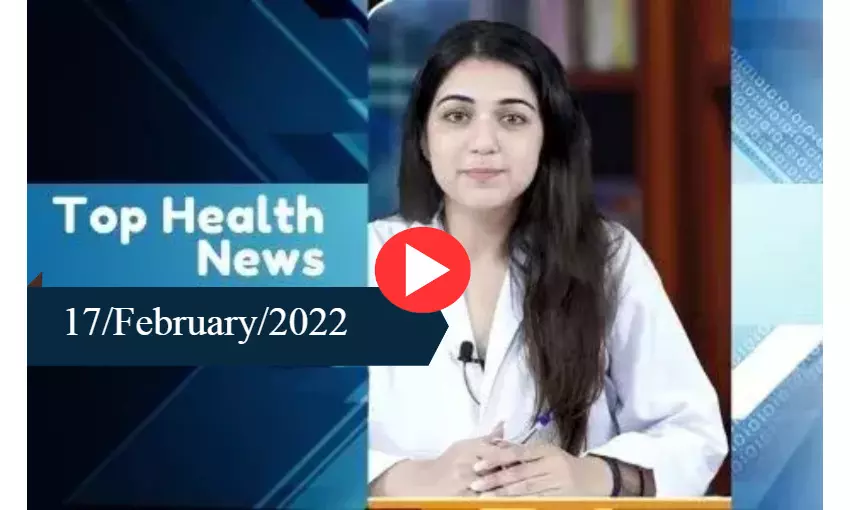 Overview
Here are Top health stories for today
Health ministry counts 13,01,319 allopathic doctors, And 5.65 lakh AYUSH doctors in india
Taking all the doctors registered with the State Medical Councils and the National Medical Commission (NMC) into consideration, India has a total number of 13,01,319 allopathic doctors, informed MoS Health Dr. Bharati Pravin Pawar.
Apart from the allopathic practitioners, there are 5.65 lakh AYUSH doctors, 2.89 lakh registered dentists, 33.41 lakh registered nursing personnel and 13 lakh Allied and Healthcare Professionals in the country, revealed the data presented by the Union Health Ministry before the Rajya Sabha.
For more information, check out the full story on the link below:
Health Ministry Counts 13,01,319 Allopathic Doctors, And 5.65 Lakh AYUSH Doctors In India
Guduchi is safe and does not produce any toxic effects
Certain sections of the media have falsely linked again Giloy/Guduchi to liver damage. The Ministry of Ayush reiterates that Giloy/Gudduchi (Tinospora cordifolia) is safe and as per available data, Guduchi does not produce any toxic effect.
In Ayurveda, it is said to be the best rejuvenating herb. Acute toxicity studies of aqueous extract of Guduchi reports that it does not produce any toxic effect. However, the safety of a drug depends on how it is being used. Dosage is one of the important factors that determine the safety of a particular drug. In a study, lower concentration of Guduchi powder is found to increase the life span of fruit flies (Drosophila Melanogaster). At the same time, higher concentration progressively reduced the life span of flies. This clearly indicates that an optimum dosage should be maintained in order to get the desired effects. This infers that the medicinal herb has to be used in an appropriate dose as prescribed by a qualified physician to get medicinal effects. With the wide range of actions and abundant components, Guduchi is a real treasure among herbal drug source. Medicinal applications of Guduchi in countering various disorders and it's use as anti-oxidant, anti-hyperglycemic, anti-hyperlipidemic, hepatoprotective, cardiovascular protective, neuroprotective, osteoprotective, radioprotective, anti-anxiety, adaptogenic, analgesic, anti-inflammatory, anti-pyretic, anti-diarrheal, anti-ulcer, anti-microbial, and anti-cancer have been well established.
BFUHS releases round 2 NEET counselling schedule, FAQs for MBBS, BDS candidates

Through a recent notice, the BFUHS has released the schedule and FAQs for 2nd round of Online Counseling for admission to MBBS/BDS Course, session 2021.
All the concerned candidates seeking admissions to MBBS and BDS courses at BFUHS are advised to take note of the following schedule and FAQs.
For more information, check out the full story on the link below:
BFUHS Releases Round 2 NEET Counselling Schedule, FAQs For MBBS, BDS Candidates, Details
Dr Reddys to sell two brands, Combihal and Daffy to Mankind Pharma
Mankind Pharma on Wednesday said it has inked a pact with Dr Reddy's Laboratories to acquire two brands -- Combihale and Daffy. While Combihale is used for the treatment of asthma and chronic obstructive pulmonary disease, Daffy is a soap-free moisturising bar for infants.
Mankind Pharma said the market for Combihale is valued at Rs 900 crore growing at 14 per cent.

The acquisition of the product is expected to strengthen the company's presence in the inhalation respiratory market segment, Mankind Pharma said in a statement.
For more information check out the full story on the link below:
Dr Reddys To Sell Two Brands, Combihal And Daffy To Mankind Pharma
Speakers

Roshni Dhar, a Mass com graduate with a soft corner for health happenings, joined Medical Dialogues as a news anchor in 2021. Inspired by her mother who is a gynaecologist, she likes to keep herself and the world updated on the occurring in the medical field. She covers various aspects of health news for MDTV at Medical Dialogues. She can be reached at editorial@medicaldialogues.in.