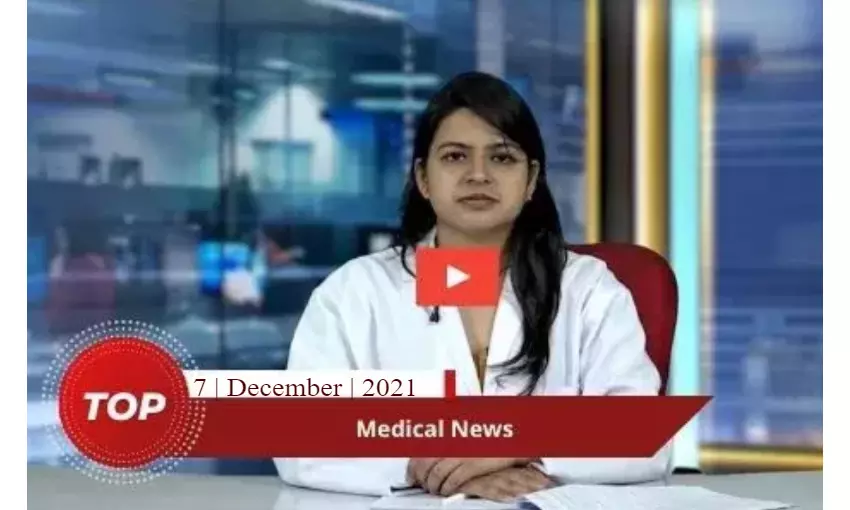 Overview
Here are Top medical stories of the day
Sleep Hygiene to have postprandial blood sugar control
Diabetic patients report higher rates of insomnia, poor sleep quality, excessive daytime sleepiness, and higher use of sleeping medications. A recent study suggests that sleep duration, quality and bed timing are important modifiable lifestyle features for improving postprandial glucose metabolism in healthy adults. The study findings were published in the journal Diabetologia on November 30, 2021.

Sleep quality also has a direct causal effect on many conditions such as cardiovascular disease, obesity, and type 2 diabetes. Several studies suggest a strong link between sleep quality/duration and glucose homeostasis. However, data on sleep and postprandial glucose metabolism typically emanate from small studies conducted in tightly controlled settings and in specific population subgroups. Therefore, Dr Tsereteli and colleagues conducted a study to investigate whether an individual's sleep quality, duration and timing impact glycaemic response to a breakfast meal the following morning.

For more details, check out the full story on the link below
Maintenance Of Proper Sleep Hygiene Tied To Good Postprandial Blood Sugar Control
Early Dialysis initiation in Chronic Kidney Disease
Dialysis should be started four years earlier to reduce mortality and CVD in advanced CKD, according to a recent study published in the BMJ.

A group of researchers conducted a study to identify the optimal estimated glomerular filtration rate (eGFR) at which to initiate dialysis in people with advanced chronic kidney disease. Patients had a baseline eGFR between 10 and 20 mL/min/1.73 m2 and were included between 1 January 2007 and 31 December 2016, with follow-up until 1 June 2017. The strict design criteria of a clinical trial were mimicked by using the cloning, censoring, and weighting method to eliminate immortal time bias, lead time bias, and survivor bias. A dynamic marginal structural model was used to estimate adjusted hazard ratios and absolute risks for five year all-cause mortality and major adverse cardiovascular events (composite of cardiovascular death, non-fatal myocardial infarction, or non-fatal stroke) for 15 dialysis initiation strategies with eGFR values between 4 and 19 mL/min/1.73 m2 in increments of 1 mL/min/1.73 m2. An eGFR between 6 and 7 mL/min/1.73 m2 (eGFR6-7) was taken as the reference.
for more details, check out the full story on the link below
Early Dialysis Initiation In CKD May Reduce CV Events And Mortality: BMJ
Dermatological menifestations of yoga posture
Yoga sign- An entity to remember

Cross‑legged sitting on hard uncarpeted floors for prolonged periods while meditating, eating and for leisurely social interaction is a very common cultural practice in India. Though sitting on chairs, sofas, and dining chairs are common in urban areas it is not the same in rural areas.
"Yoga sign" refers to pigmented callosities on the skin over the lateral malleoli, and at times over the fifth metatarsal and phalangeal bones due to cross‑legged sitting on hard floors which was recently described in the Indian Dermatology Online Journal.
Tigulixostat lowers uric acid levels
Tigulixostat significantly lowers the levels of serum uric acid (sUA) in gout patients with hyperuricemia versus placebo at all dose levels, according to results from a phase 2, dose-finding study. Also, the sUA lowering effect of tigulixostat appeared to be dose-dependent. Study participants tolerated well to the treatment with tigulixostat at all 3 dose levels.
The study was presented as the late-breaking posters at the ACR (American College of Rheumatology) Convergence 2021.
For more details, check out the full story on the link below
Tigulixostat Lowers Uric Acid Levels In Gout Patients With Hyperuricemia: Study
Financial incentives help pregnant women
Pregnant women are more likely to stop smoking if financial incentives are offered as part of a treatment plan, finds a trial from France published in The BMJ today.
The results show that rewarding women for their smoking abstinence with vouchers throughout their pregnancy was associated with an increase in continuous abstinence rate compared with no vouchers.
For more details, check out the full story on the link below:
Financial Incentives Help Pregnant Women To Quit Smoking: BMJ
Speakers

Dr. Nandita Mohan is a practicing pediatric dentist with more than 5 years of clinical work experience. Along with this, she is equally interested in keeping herself up to date about the latest developments in the field of medicine and dentistry which is the driving force for her to be in association with Medical Dialogues. She also has her name attached with many publications; both national and international. She has pursued her BDS from Rajiv Gandhi University of Health Sciences, Bangalore and later went to enter her dream specialty (MDS) in the Department of Pedodontics and Preventive Dentistry from Pt. B.D. Sharma University of Health Sciences. Through all the years of experience, her core interest in learning something new has never stopped.