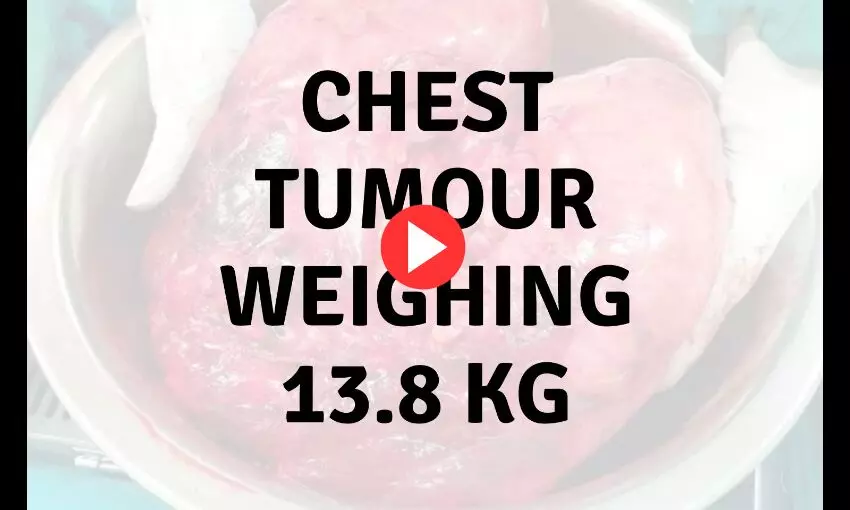 Overview
In what might be termed as a medically challenging rare surgery, Dr Udgeath Dhir, Director and Head, CTVS, Fortis Memorial Research Institute along with his team of doctors successfully removed, the world's largest chest tumor weighing 13.85 kgs from the chest of a 25-year-old young male patient. As per the available medical literature and published papers, the largest chest tumor removed to date, prior to this case was in Gujarat in 2015 weighing 9.5kgs.

Patient Devesh Sharma was presented in an extremely critical condition at Fortis Memorial Research Institute, Gurugram, with breathlessness and extreme uneasiness in the chest. He wasn't able to sleep straight on the bed due to breathing trouble for the past 2-3 months. Upon evaluation at another hospital in the city, the pulmonologist had advised him for a chest CT scan. The scan report indicated a massive tumor in the chest which was occupying more than 90% of the chest area, engulfing the heart and displacing both lungs which led to only 10% of the lungs functioning. Devesh was suggested visiting Dr. Dhir for further line of treatment by other senior doctors.
For more details, check out the full story on the link mentioned below:
Fortis Doctors Successfully Remove World's Largest Chest Tumour

Speakers

Roshni Dhar, a Mass com graduate with a soft corner for health happenings, joined Medical Dialogues as a news anchor in 2021. Inspired by her mother who is a gynaecologist, she likes to keep herself and the world updated on the occurring in the medical field. She covers various aspects of health news for MDTV at Medical Dialogues. She can be reached at editorial@medicaldialogues.in.