MedAchievers Healthcare and Education Leadership Summit 2015 in Collaboration With IIM Lucknow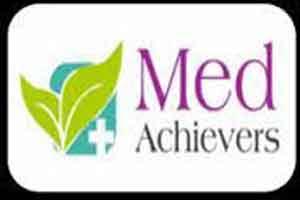 New Delhi: Buoyed by its success in staging Health Premier league and MedAchievers Award 2014 and 2015, MedAchievers, an initiative of H R Biocare, in collaboration with Indian Institute of Management (IIM) Lucknow organised a day-long 'Healthcare and Education Leadership Summit in India' on 29th December, 2015 at IIML Noida Campus. The objective of the summit was to create an ecosystem of healthcare knowledge and education. This will enable percolation and penetration of expertise concentrated at metros to different parts of the country.

The summit, organized under the leadership of Dr. Harsha Vardhan MD, MedAchievers and Dr. Venkataramanaiah of IIM Lucknow, invited two panel discussions addressing the need and availability of tools and policies and quality healthcare services. The panel had leaders like Dr. Surg. R. Admiral V K Singh, MD, InnovatioCuris, Dr. Sharmila Anand, MD, Santosh Medical University, Mr. Mukul Bagga, MD Quest Diagnostics, USA, Mr. Sanjay Bhutani, MD, Bausch and Lomb, Mr. Gaurav Malhotra, CEO and MD, Bournhall International, Dr. Anil Kohli, President, Dental Council of India, Dr. M Arumugum, MD & CEO, Broadline Technologies Pvt Ltd, Dr. Shobha Dhawan, Director Medical, Metro Hospitals, Mr. Anurag Batra, Chairman, Business World Magazine addressed the esteemed gathering and spoke about the need of management policies in healthcare. More than 100 participants including medical delegation from University of Florida participated in the summit sharing global health practices and its possible implementation in India.

On this occasion, leaders from healthcare and education were recognised by chairman of MedAchievers Dr. R K Pandey and Prof. Venkataramanaiah of IIM Lucknow for their invaluable contribution. Mrs. Vandana Nagesh, MD, Eazyshopee Bangalore started the first e-Commerce portal, which delivers school books to students' door steps was honored with 'Best School Books e-commerce portal in India', Dr. Sharmila Anand for her contribution in healthcare,. Mr. Gaurav Malhotra for his leadership capability, Dr. Admiral (retd.) V K Singh for credible innovation and Dr. M Aurumugum for innovative IT tools and application in government segment. The credibility and scale of MedAchiever Awards can be felt by looking at the past recipients including Dr. Devi Shetty (Chairman, Narayan Healthcare), Dr. Naresh Trehan (Chairman, Medanta Medicity) and last but not the least Mega Star Mr. Amitabh Bachchan for his contribution in healthcare awareness campaigns resulting in polio eradication.