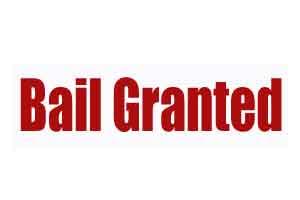 New Delhi: An alleged hawala operator and three others were granted bail by a Delhi court in connection with a medical college corruption case.
The court gave the relief to alleged hawala operator Ram Dev Saraswat, middleman Biswanath Aggarwala, Lucknow-based medical college chairman B P Yadav and his son Palash Yadav, who were arrested along with former Chhattisgarh High Court judge Ishrat Masroor Quddusi.
The four accused were grated bail on a personal bond of Rs one lakh each with a surety of the like amount.
Quddusi, who has also served as a judge in Orissa High Court, was granted bail on September 27 by the court which observed that he had deep roots in society.
The case lodged by the CBI alleged that the accused tried to settle a matter relating to Prasad Institute of Medical Sciences, Lucknow which was debarred from admitting new students due to sub-standard facilities.
While allowing their bail pleas, Special CBI Judge Manoj Jain directed all of them to surrender their passports within three days and not come in contact with any prosecution witnesses directly or indirectly.
It also directed them to join the investigation as and when required.
Seeking the relief for Saraswat, his counsel Vijay Aggarwal claimed that he has nothing to do with the conspiracy and has already spent over two weeks in custody.
B P Yadav and Palash, through their counsel S K Sharma, also sought the relief on the grounds of parity and contended that they were victims of circumstances.
Prasad Institute of Medical Sciences is one of the 46 colleges debarred by the Medical Council of India (MCI).
The court had earlier granted interim bail to Bhawana Pandey, the lone woman accused in the case, for treatment of her four-year-old son who is suffering from autism.
While granting bail to Quddusi, the court had considered that he had an unblemished track record as a high court judge for 17 years and there was no question of his non-cooperation with the probe agency.
The CBI had opposed the bail pleas on the ground that they might tamper with evidence and influence important witnesses in the case.
According to the CBI, the arrests were made on September 20 after search operations at eight locations, including the residence of Quddusi in Greater Kailash area of South Delhi, as also in Bhubaneswar and Lucknow.
The CBI had alleged they were not cooperating in the probe and had to be quizzed regarding similar cases involving medical colleges debarred by the government from admitting students due to sub-standard facilities.
The probe agency has alleged that Quddusi had obtained an installment of gratification from B P Yadav and it needed to investigate how it was paid.
It has alleged that Rs 1.86 crore were recovered and "a larger nexus needed to be considered as 46 colleges were debarred".
Read also: Medical college corruption case: Retired HC judge, others sent to judicial custody
0 comment(s) on Medical College Corruption Case: 4 main accused get bail