................................ Advertisement ................................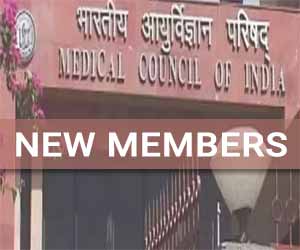 New Delhi: With the Central Government earlier giving its nod to increasing the number of members in the Medical Council of India Board of Governors (MCI BOG), four new doctors have now been appointed to the highest regulatory body of the medical profession.
With these additional appointments, the strength of the MCI Board of Governors has gone up from earlier 7 members to now 11 members. As per the recently passed Indian Medical Council (Amendment) Section Ordinance, 2019 (Ordinance 5 of 2019, upto 12 members can be appointed to the MCI Board of Governors
Following doctors have been appointed as the additional members of the Medical Council of India Board of Governors :
1. Maj Gen Madhuri Kanitkar MD (Pediatrics), DNB (Pediatrics), Dean and Deputy Commandant of AFMS.
2. Dr Pankaj M Shah, Advisor, Gujarat Cancer & Research Institute.
3. Dr RV Ramani, founder and managing trustee of Sankara Eye Foundation.
4. Dr KS Sharma, Director (Academics), Tata Memorial Centre, Mumbai.
The Union Cabinet Tuesday approved the proposal for promulgation of the Indian Medical Council (Amendment) Second Ordinance, 2019 to allow the Board of Governors (BOG) to run the scam-tainted apex body for regulating medical education.
................................ Advertisement ................................
Earlier this month the parliament had given its nod to the bill to supersede the Medical Council of India(MCI) for a period of two years during which a Board of Governors will run the once scam-tainted regulatory body for medical education.
The parliamentary approval came after the Rajya Sabha passed the measure by a voice vote.
Read Also: Its Final: Board of Governors to run MCI for 2 years, Parliament gives nod
The Bill that was cleared also called for increasing the members of MCI Board Governors from 7 to 12, while increasing their tenure to a period of 2 years with effect from September 26, 2018.
Medical Dialogues team had earlier reported that In view to put an alternative mechanism in place of MCI so as to bring transparency, accountability and quality in the governance of medical education in the country, it was decided to supersede the MCI through the Indian Medical Council (Amendment) Ordinance, 2018, promulgated on September 26, and entrust its affairs to a board of governors consisting of eminent doctors.
At that time, the functioning of the council was handed over to a seven member team including Dr. V.K. Paul, Professor & Head, Paediatrics, AIIMS, New Delhi as Chairman and eminent doctors as members including Dr. Randeep Guleria, Director, AIIMS;Dr. Jagat Ram, Director, PGIMER;Dr. BN Gangadharan, Director, NIMHANS;Dr. Nikhil Tandon, Professor & Head, Endocrinology, AIIMS. The 7 member team also had two ex-officio members in Dr S. Venkatesh, Director General of Health Services, MOHFW and Prof Balram Bhargava, Secretary, Department of Health Research and DG ICMR
Meghna A Singhania is the founder and Editor-in-Chief at Medical Dialogues. An Economics graduate from Delhi University and a post graduate from London School of Economics and Political Science, her key research interest lies in health economics, and policy making in health and medical sector in the country.
She can be contacted at meghna@medicaldialogues.in.
Contact no. 011-43720751
................................ Advertisement ................................
12 comment(s) on Medical Council of India Board of Governors get 4 New members, Details