DrNB Clinical Haematology: Admissions, Medical Colleges, Fees, Eligibility Criteria details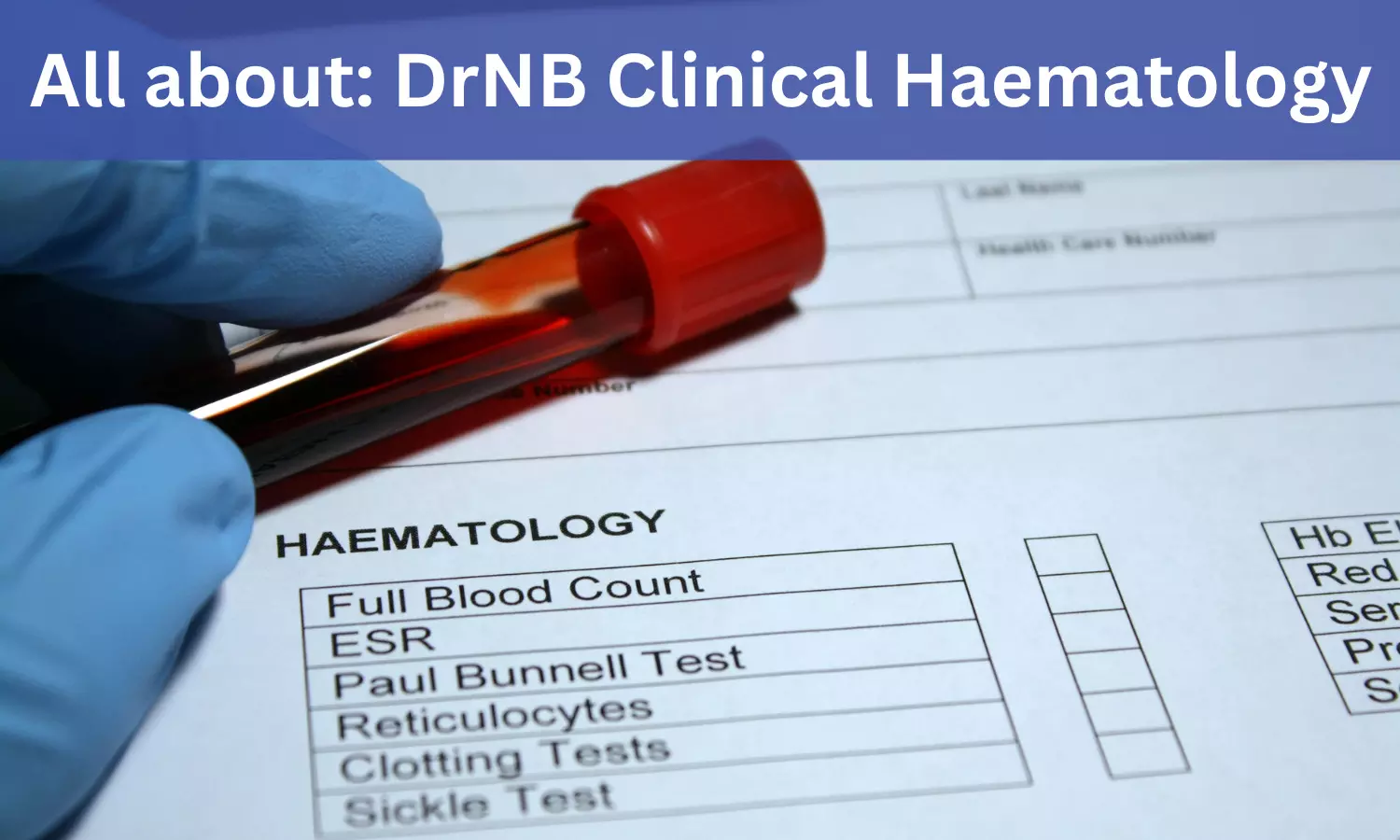 DrNB Clinical Haematology or Doctorate of National Board in Clinical Haematology also known as DrNB in Clinical Haematology is a super specialty level course for doctors in India that is done by them after completion of their postgraduate medical degree course. The duration of this super specialty course is 3 years, and it focuses on the study of the cause, prognosis, treatment, and prevention of blood-related diseases.
The course is a full-time course pursued at various accredited institutes/hospitals across the country. Some of the top accredited institutes/hospitals offering this course include Apollo Hospital-Gandhi Nagar, Army Hospital (R and R)-New Delhi, Dr. B L Kapur Memorial Hospital Pusa Road, New Delhi and more.
Admission to this course is done through the NEET-SS Entrance exam conducted by the National Board of Examinations, followed by counselling based on the scores of the exam that is conducted by DGHS/MCC/State Authorities.
The fee for pursuing DrNB (Clinical Haematology) varies from accredited institutes/hospital to hospital and may range from Rs. 80,000 to Rs. 4,00,000 per year.
After completion of their respective course, doctors can either join the job market or can pursue certificate courses and Fellowship programmes recognized by NMC and NBE. Candidates can take reputed jobs at positions as Senior residents, Consultants etc. with an approximate salary range of Rs. 5,50,000 toRs.19,00,000 per year.
DNB is equivalent to MD/MS/DM/MCh degrees awarded respectively in medical and surgical super specialities. The list of recognised qualifications awarded by the Board in various broad and super specialties as approved by the Government of India are included in the first schedule of the Indian medical council Act, 1956.
The Diplomate of National Board in broad-speciality qualifications and super speciality qualifications when granted in a medical institution with the attached hospital or in a hospital with the strength of five hundred or more beds, by the National Board of Examinations, shall be equivalent in all respects to the corresponding postgraduate qualification and the super-speciality qualification granted under the Act, but in all other cases, senior residency in a medical college for an additional period of one year shall be required for such qualification to be equivalent for the purposes of teaching also.
What is DrNB in Clinical Haematology?
Doctorate of National Board in ClinicalHaematology, also known as DrNB (Clinical Haematology) or DrNB in (ClinicalHaematology) is a three-year super specialty programme that candidates can pursue after completing a postgraduate degree.
Clinical Haematology is the branch of medical science dealing with the study of the cause, prognosis, treatment, and prevention of blood-related diseases.
National Board of Examinations (NBE) has released a curriculum for DrNB in Clinical Haematology.
The curriculum governs the education and training of DrNB in Clinical Haematology.
The postgraduate students must gain ample of knowledge and experience in the diagnosis, treatment of patients with acute, serious, and life-threatening medical and surgical diseases.
The PG education intends to create specialists who can contribute to high-quality health care and advances in science through research and training.
The required training done by a postgraduate specialist in the field of Clinical Haematologywould help the specialist to recognize the health needs of the community. The student should be competent to handle medical problems effectively and should be aware of the recent advances in their speciality.
The candidate is also expected to know the principles of research methodology and modes of the consulting library. The candidate should regularly attend conferences, workshops, and CMEs to upgrade her/ his knowledge.
Course Highlights
Here are some of the course highlights of DrNB in Clinical Haematology
Name of Course

DrNB in Clinical Haematology

Level

Doctorate

Duration of Course

Three years

Course Mode

Full Time

Minimum Academic Requirement

MD/DNB (General Medicine/ Paediatrics/ Biochemistry/ Pathology) obtained from any college/university recognized by the Medical Council of India (Now NMC)/NBE

Admission Process / Entrance Process / Entrance Modalities

Entrance Exam (NEET-SS)

INI CET for various AIIMS, PGIMER Chandigarh, JIPMER Puducherry, NIMHANS Bengaluru

Counselling by DGHS/MCC/State Authorities

Course Fees

Rs. 80,000 to Rs. 4,00,000 per year

Average Salary

Rs. 5,50,000 to Rs.19,00,000 per year
Eligibility Criteria
The eligibility criteria for DrNB in Clinical Haematology are defined as the set of rules or minimum prerequisites that aspirants must meet in order to be eligible for admission, which includes:
Candidates must be in possession of a postgraduate medical Degree (MD/MS/DNB) from any college/university recognized by the MCI (Now NMC)/NBE.

The eligible feeder specialty qualification for DrNB in Clinical Haematology is mentioned below:
Name of Super Specialty course
Course Type
Prior Eligibility Requirement
Clinical Haematology
DM/DrNB
MD/DNB (General Medicine)
MD/DNB (Paediatrics)
MD/DNB (Biochemistry)
MD/DNB (Pathology)
•The prior entry qualifications shall be strictly in accordance with Post Graduate Medical Education Regulations, 2000 and its amendments notified by the NMC and any clarification issued from NMC in this regard.
•The candidate must have obtained permanent registration of any State Medical Council to be eligible for admission.
•The medical college's recognition cut-off dates for the Postgraduate Degree courses shall be as prescribed by the Medical Council of India (now NMC).
Admission Process
The admission process contains a few steps to be followed in order by the candidates for admission to DrNB in Clinical Haematology. Candidates can view the complete admission process for DrNB in ClinicalHaematology mentioned below:
The NEET-SS or National Eligibility Entrance Test for Super specialty courses is a national-level master's level examination conducted by the NBE for admission to/MCh/DrNB Courses.
Qualifying Criteria-Candidates placed at the 50th percentile or above shall be declared as qualified in the NEET-SS in their respective specialty.
The following Medical institutions are not covered under centralized admissions for DM/MCh courses through NEET-SS:
1.AIIMS, New Delhi and other AIIMS
2.PGIMER, Chandigarh
3.JIPMER, Puducherry
4.NIMHANS, Bengaluru
Candidates from all eligible feeder specialty subjects shall be required to appear in the question paper of the respective group, if they are willing to opt for a superspecialty course in any of the superspecialty courses covered in that group.
A candidate can opt for appearing in the question papers of as many groups for which his/her Postgraduate specialty qualification is an eligible feeder qualification.
By appearing in the question paper of a group and on qualifying the examination, a candidate shall be eligible to exercise his/her choices in the counseling only for those superspecialty subjects covered in said group for which his/ her broad specialty is an eligible feeder qualification.
Fees Structure
The fee structure for DrNB in Clinical Haematology varies from accredited institute/hospital to hospital. The fee is generally less for Government Institutes and more for private institutes. The average fee structure for DrNB in Clinical Haematology is around Rs. 80,000 to Rs. 4,00,000 per year.
Colleges offering DrNB in Clinical Haematology
There are various accredited institutes/hospitals across India that offer courses for pursuing DrNB in Clinical Haematology.
As per the National Board of Examinations website, the following accredited institutes/hospitals are offering DrNB (Clinical Haematology)courses for the academic year 2022-23.
| | | |
| --- | --- | --- |
| Hospital/Institute | Specialty | No. of Accredited Seat(s) (Broad/Super/Fellowship) |
| Apollo Hospital International Plot No. 1A, GIDC Estate Bhat, District - Gandhi Nagar Gujarat-382428 | Clinical Haematology | 2 |
| Apollo Multispecialty Hospitals Limited 58, Canal Circular Road, Kolkata West Bengal-700054 | Clinical Haematology | 1 |
| Army Hospital (R and R) Delhi Cantt, New Delhi Delhi-110010 | Clinical Haematology | 2 |
| Deenanath Mangeshkar Hospital and Research Centre. 8+13/2, Erandwane, Near Mhatre Bridge, Pune Maharashtra-411004 | Clinical Haematology | 1 |
| Dr. B L Kapur Memorial Hospital Pusa Road, New Delhi Delhi-110005 | Clinical Haematology | 2 |
| Fortis Memorial Research Institute Sector-44, Opposite HUDA CITY centre Metro Station, Gurgaon, Haryana-122002 | Clinical Haematology | 1 |
| HealthCare Global Specialty Hospital (Formerly Bangalore Institute of Oncology) Deans Office #8, P. Kalinga Rao Road, Sampangiram Nagar, Bangalore Karnataka-560027 | Clinical Haematology | 1 |
| Malabar Cancer Centre Moozhikkara P O, Kodiyeri, Thalassery, Kannur Kerala-670103 | Clinical Haematology | 2 |
| Manipal Hospital No. 98, Rustum Bagh, Old Airport Road, Bangalore Karnataka-560017 | Clinical Haematology | 1 |
| Narayana Hrudayalaya Hospital (NH-Narayana Health City, Bangalore) #258/A, Bommasandra Industrial Area, Anekal Taluk, Bangalore Karnataka-560099 | Clinical Haematology | 4 |
| Rajiv Gandhi Cancer Institute and Research Centre Sec-5, Rohini, New Delhi Delhi-110085 | Clinical Haematology | 3 |
| Sahyadri Super Specialty Hospital Plot No. 30C, Erandawane, Karve Road, Pune. Maharashtra-411004 | Clinical Haematology | 2 |
| SCB Medical College and Hospital Mangalabag, Cuttack, Odisha Orissa Orissa-753010 | Clinical Haematology | 2 |
| Sir Ganga Ram Hospital Rajinder Nagar, New Delhi Delhi-110060 | Clinical Haematology | 2 |
| St. Johns Medical College Hospital Sarjapur Road, Koramanagala Bangalore Karnataka-560034 | Clinical Haematology | 2 |
| Tata Medical Center 14 Major Arterial Road (E-W), Newtown, Rajarhat, Kolkata West Bengal-700160 | Clinical Haematology | 2 |
| Yashoda Super Speciality Hospital Raj Bhavan Road, Somajiguda, Hyderabad Telangana-500082 | Clinical Haematology | 1 |
Syllabus
A DrNBin Clinical Haematology is a three years specialization course that provides training in the stream of ClinicalHaematology.
The course content for DrNB in Clinical Haematology is given in the NBE Curriculumreleased by the National Board of Examinations, which can be assessed through the link mentioned below:
1. THEORY SYLLABUS: Departments involved in the training programme:
i. Clinical Haematology (Adult and Pediatric) and HSCT
ii. Laboratory Haematology including Haematopathology, Cytogenetics and Molecular genetics
iii. Transfusion Medicine
iv. Microbiology
v. Biochemistry
vi. Pathology
vii. Nuclear Medicine
viii. Radiotherapy
ix. HLA/transplant immunology
2. CLINICAL HAEMATOLOGY TRAINING:
Under the faculty's guidance and supervision, the postdoctoral student will be responsible for the acquisition of knowledge in all areas of Haematology (clinical and laboratory) and Transfusion Medicine. Such knowledge will be acquired through bedside teaching, seminars, case presentations, journal clubs, tutorials, proper use of the library, and formal reviews of selected major topics. Faculty should be present at various exercises to provide appropriate input. The trainee will acquire clinical experience by day-today management of all patients admitted to the Haematology service under the faculty's supervision.
i. Basic Haematology:
a. Cell Cycle and haematopoiesis, iron, vitamin B12 and folate metabolism, concepts of coagulation and natural anticoagulant, structure, and functions of all types of blood cells.
b. Principles of chemotherapy, concepts of combination chemotherapy, their toxicities.
c. Monoclonal antibodies, immunotherapy and small molecules in Haematology, their use and toxicities.
d. Immunology: principles of innate and adaptive immunity and transplant immunology.
ii. Disorders of Red Cell: Clinical evaluation of a patient with anemia, adequate history taking, clinical examination, appropriate laboratory investigations, and management.
a. Iron deficiency anemia: Iron metabolism and its regulation, pathophysiology of iron deficiency, epidemiology, iron deficiency as a community health program, causes in the population, control strategies in the population. Interpretation of serum iron, TIBC, transferrin, ferritin to diagnose iron deficiency. Relevant test to establish the cause of the iron deficiency. Management, including iron replacement and treatment of the underlying cause. Epidemiological significance of iron deficiency anemia in the population and preventive strategies.
b. Vitamin B12 and folate deficiency: Understanding the role of Vitamin B12 and folate in cellular metabolism and the interaction of disease and drugs with B12 and folate metabolism. Clinical and laboratory evaluation of the deficiency and management of vitamin B12 and folate deficiency.
iii. Haemolyticanaemia:
a. Thalassemia and Haemoglobinopathies: Genetic basis and pathophysiology of the disorder, clinical and laboratory evaluation of the patient, with their management, and long-term follow-up. Adequate knowledge on transfusion regimes, chelation, thalassemia complications, the role of splenectomy, and HSCT. Principles of control of the thalassemia syndromes in the population, screening strategies, antenatal diagnosis, genetic counseling and monitoring of complications due to iron overload.
b. Sickle cell disease: Pathophysiology, evaluation, management of the steady-state as well as various sickle cell crises and management of chronic complications. Clinical and haematological features of the various sickle cell diseases. Therapeutic role of HSCT.
c. Inherited enzymopathies (Red cell G6PD deficiency & others) and membrane opathies: evaluation, planning and interpretation of investigations (like Osmotic Fragility Test and Eosin-5'-Maleimide dye binding test) to ascertain the diagnosis, and management. The precise role of splenectomy in the present era and emphasis on genetic counseling.
d. Acquired Haemolytic disorders: evaluation and management of acquired haemolytic anemia, the role of immunosuppression, intravenous immunoglobulin, plasmapheresis and role of splenectomy.
e. Management of rare congenital and acquired red cell disorders like porphyria, congenital dyserythropoietic anemia, pure red cell aplasia (inherited and acquired), side roblastic anemias, and nonspherocytichaemolytic anemia etc.
iv. Disorder of White Cell:
a. Neutropaenia: Clinical evaluation of the neutropenic patient, role of surveillance microbiology, antimicrobial therapy in neutropenia with emphasis on the multidrug-resistant organism, role of growth factors, barrier nursing, and principles of providing a sterile environment for the neutropenic patient. Evaluation and management of inherited neutrophil disorders.
b. Functional disorders of neutrophils: laboratory tests for evaluating neutrophil dysfunction, and the role of growth factors, antimicrobial prophylaxis, and HSCT in its management.
c. Leukemia (acute and chronic): Clinical evaluation, diagnostic confirmation by morphology, immunopheno typing, special stains, cytogenetics, and molecular genetics. They should know the algorithmic approach in immunopheno typing for diagnosis of leukemia's. The trainee must be familiar with the principles of leukemia management and standard protocols available. They should understand the pharmacology of chemotherapeutic drugs, their mode of administration, toxicity and complications such as extravasation. They should have knowledge of supportive care, including transfusion support in managing patients with all types of leukemia. The trainee should be familiar with the management of complications like hyper leukocytosis, tumor lysis syndrome and drug toxicities.
d. Myeloproliferative neoplasms (MPN): Classification, systematic diagnostic evaluation of MPNs, risk stratification, and current management strategies, including the role of HSCT.
e. Myelodysplastic syndrome (MDS): Clinical evaluation, diagnosis, risk stratification, and management, including the role of supportive care and HSCT.
f. Lymphoma: WHO classification of lymphomas, clinical evaluation, principles of diagnosis, and staging. Immunophenotypic (flow cytometry and immunohistochemistry) approach to diagnosis of lymphoproliferative disorders, role of cytogenetic and molecular tests in diagnosis and prognostication of lymphomas. Management of the different types of lymphomas including chemotherapy, HSCT, maintenance therapy and follow-up.
g. Multiple Myeloma and other Para protein disorders: Clinical, laboratory and radiological evaluation of a patient with plasma cell disorders. Interpretation of electrophoresis and imaging reports, assessment of endorgan damage, role of flow cytometry, cytogenetics and risk stratification in diagnosis and management. Treatment algorithm of plasma cell dyscrasia and response assessment. Role of HSCT, post-transplant consolidation, maintenance therapy, and follow-up. Management of complications like anaemia, renal failure, hypercalcemia, infections, bone disease and hyper viscosity. Concepts of monoclonal gammopathy of undetermined/renal/clinical significance. Evaluation and treatment of Waldenstrom'smacroglobulinemia and other rare para proteinemias.
h. Immunodeficiency disorders: Trainees must be able to investigate and manage primary immunodeficiency disorder systematically. They should have adequate knowledge of immunoglobulin replacement principles, interferons, growth factors, antibiotic prophylaxis, and role HSCT. They should have adequate knowledge on the haematological manifestations of acquired immunodeficiency disorders and its management.
i. Disorders of histiocytic: Evaluation and management of Haemophagocyticlymphohistiocytosis and histiocytic malignancies, Langerhans cell history to is and storage disorders.
v. Pancytopenia:
a. Aplasticanaemia: Etiology, pathophysiology, evaluation, and management, including immune suppression (anti-thymocyte globulin, cyclosporine), eltrombopag, and supportive therapy. Role of HSCT including the role of haploidentical transplant. Management of a relapsed case of aplastic anaemia.
b. Bone marrow failure syndrome (BMFS): Etiology, classification, pathophysiology, clinical features of various bone marrow failure syndromes. Clinical evaluation and investigations including the role of cytogenetics, stress cytogenetics and relevant molecular workup for confirmation of the diagnosis. Knowledge of telomeropathies and ribosomopathies and their management. Therapeutic strategies for various BMFS with curative treatment options of HSCT and role of supportive care
c. Evaluation and management of pancytopenia due to other systemic disorders, drugs, autoimmune disorders and sepsis.
vi. Haemostasis and thrombosis:
a. Trainees should be thorough with the clinical and laboratory approach to a patient with a bleeding tendency.
b. Thrombocytopaenia: Evaluation and investigation of the cause of thrombocytopaenia and its management.
c. Inherited platelet function disorders: Clinical evaluation, laboratory diagnostic strategies, and management. Interpretation of platelet aggregation studies, flow cytometry and viscoelastic tests for platelet defects.
d. Inherited coagulation factor deficiencies: Clinical evaluation and laboratory diagnosis of haemophilia, principles of factor replacement, prophylaxis strategies and on-demand therapy, replacement schedule in a person with haemophilia who needs surgery, in the event of major bleed or trauma, and management of complications of haemophilia including arthropathies. Concepts of development of inhibitor and interpretation of inhibitor assay. Principles of managing patients with inhibitors including management of breakthrough bleeds.
e. Acquired bleeding disorders: Evaluation and management of DIC, haemorrhagic complications of liver disease, renal failure, acquired coagulation factor deficiency and drug related platelet disorder. Management of thrombocytopenia in pregnancy.
f. Thrombotic disorders: Classification and laboratory diagnosis of inherited thrombotic disorders, evaluation of acquired thrombotic disorders with emphasis on cancer related thrombosis, the clinical use of anticoagulants, duration of therapy, and monitoring emphasizing the upcoming role of DOACs.
vii. Haematopoietic stem cell transplantation (HSCT):
a. Indication sand outcome of HSCT in various diseases. Role of autologous and allogenic transplant in different diseases. Indications and outcome of HLA matched sibling donor, matched unrelated donor, cord blood and haploidentical transplant in different diseases.
b. Thorough knowledge on donor selection.
c. Conditioning regimens used for different disease. Strategies for GvHD prevention.
d. Peripheral blood and bone marrow harvest of stem cell and its manipulation, cryopreservation.
e. Supportive care and management of complications in the post-transplant period.
f. Monitoring and management of the long-term complications in posttransplant patients.
g. Post-transplant vaccination.
h. Post-transplant immune reconstitution and interpretation of chimerism studies.
viii. Consultation Haematology:
a. Haematological complications of pregnancy.
b. Haematological complications of systemic disease.
c. Haematological problems of the intensive care patient.
d. Drugs-related haematological issues.
e. Haematological problems in the newborn.
f. Consults in rheumatology – APS/ HLH/ MAS/ CAPS
g. Haematological consults in geriatric medicine
h. Haematological manifestations in solid malignancies e.g. myelopthisic anemia, cancer related thrombosis.
ix. Supportive care:
a. Management of nausea, vomiting, diarrhoea.
b. Pain management.
c. Management of cytopaenia and its complications like infections, bleeding, and anaemia.
d. Gonad preservation.
e. Parenteral and enteral nutritional support, diet.
f. Infection control, environmental measures, hygiene.
x. Recent Advances in Haematology:
a. Recent concepts on iron metabolism, coagulation, and other basic aspects of Haematology.
b. Recent advances in molecular biology in Haematology.
c. Modern diagnostic tools in Haematology.
d. Recent advances in the understanding of haematological diseases.
e. New drugs in Haematology, including monoclonal antibodies, targeted therapy, and small molecules
f. Management of multidrug resistant organisms and newer antimicrobials.
g. New developments and upcoming role of imaging in Haematology
h. Advances in HSCT, CAR-T cell therapy, and gene therapy.
i. New developments in Haematology as discussed in yearly international conferences and webinars.
xi. Transfusion Medicine:
a. Blood component preparation and clinical use: Blood collection, knowledge on anticoagulants used in storage and their effect on storage. Component preparation and storage. Quality assurance in transfusion medicine.
b. A thorough understanding of the clinical indications for the proper use of specific blood components.
c. Diagnosis and management of transfusion associated complications.
d. Concepts and indication of leucodepletion and irradiation of blood components. Knowledge on the performance of the same.
e. Screening and management of allo-immunisation concerning transfusion.
f. Principles of the plasmapheresis. Principles of the machine, continuous versus intermittent flow techniques, replacement fluids for plasmapheresis, current status, and indication in various diseases should also be known and understood.
xii. Bioethics:
a. Respect human life and the dignity of every individual.
b. Refrain from supporting or committing crimes against humanity and condemn all such acts.
c. Treat the sick and injured with competence and compassion and without prejudice and apply the knowledge and skills when needed.
d. Protect the privacy and confidentiality of those for whom we care and breach that confidence only when keeping it would seriously threaten their health and safety or that of others.
e. Work freely with colleagues to discover, develop, and promote advances in medicine and public health that ameliorate suffering and contribute to human well being
f. Educate the public about the present and future threats to the health of humanity.
g. Advocate for social, economic, educational, and political changes that ameliorate suffering and contribute to human wellbeing.
h. Teach and mentor those who follow us, for they are the future of our caring profession.
xiii. Research and biostatistics: Clinical trial protocol designing, Clinical epidemiology, Biostatistics, Bioethics, and Medico-legal issues pertaining to study patients.
3. LABORATORY HAEMATOLOGY:
i. Laboratory Equipment's and organization:
a. Proper use and care of common laboratory instruments such as the light microscope, centrifuge, water baths, freezers, etc.
b. Trainee must have adequate knowledge of all laboratory equipment's essential maintenance, including their calibration procedure and frequency.
c. Knowledge on setting up a Haematology laboratory, its workflow procedures, handling, storage, and sample disposal.
d. Technical and non-technical personnel requirements, their periodic training, and safety.
e. Maintenance of record, data preservation, and generation of laboratory statistics.
f. Quality assurance (Internal and External) measures and assessment of preanalytical, analytical, and post-analytical variables. Period audits to ensure precision and accuracy of lab results.
ii. Basics of Laboratory Haematology
a. Blood collection of samples by venipuncture and finger prick methods.
b. Knowledge about the types of vacutainers and anticoagulants used for sample collection, the ratio of sample to the anticoagulant, the effects of delay in sample processing, and proper temperature of sample storage.
c. Determination of blood counts (haemoglobin, haematocrit and other red cell indices, total and differential WBC counts andplatelet count) manually.
d. Use of automated electronic blood cell counters, including principles and practice. Interpretation of the parameters of advanced cell counters.
e. Preparation, staining, and interpretation of peripheral blood smears.
f. Review of normal and abnormal blood smears with emphasis on:
Morphology of red cells, white cells, and platelets.
Performance of WBC differential count.
Subjective assessment of platelet count.
Interpretation of abnormal smear to ascertain approach to diagnosis.
g. Supravitally staining of reticulocytes: manual and automated techniques and interpretation of the results.
h. Performance of bone marrow aspiration and trephine needle biopsy.
i. Preparation of smears of bone marrow aspirates and biopsy imprints (touch preparations) and their staining by Romano sky stain as well as special stains like Perl's stain, PAS, Sudan Black B, Myeloperoxidase, Specific, on-specific and Dual esterase.
j. Performance and interpretation of HbS (sickle hemoglobin) solubility test, screening for red cell G6PD activity and its interpretation.
iii. Laboratory Investigation of HaemolyticAnaemias:Red cell membrane disorders and Immune Haemolyticanaemias:
a. Quantitation of normal HbA, HbF, HbA2 and abnormal HbS,HbD,HbE,HbC, etc., by electrophoresis and chromatography.
b. Screening for unstable haemoglobin (heat instability and Isopropanol tests).
c. Supravital staining for HbH inclusions.
d. Standard hypotonic saline osmotic fragility test, incubated osmotic fragility test and Eosin-5'-Maleimide binding test by flow cytometry.
e. Heinz body preparation.
f. Screening for red cell G6PD deficiency and quantitative estimation of red cellG6PD activity.
g. Screening for red cell pyruvate kinase (PK) deficiency and assay of red cell pyruvate kinase activity.
h. Screening for other red cell enzymopathies.
i. PNH flow cytometry and FLAER for PNH, Urine haemosiderin.
j. Direct and indirect anti-globulin (Coombs) tests, warm and cold autoantibody (Cold agglutinin) titre, determination of thermal amplitude of cold agglutinin.
k. Role of flow cytometry in the evaluation of Haemolyticanaemia.
l. Role of molecular techniques including NGS in the diagnosis of Haemolyticanaemia.
m. Sickling test.
Miscellaneous biochemical tests on Red cells, Plasma, and Urine:
a. Examination of urine red cells, haemosiderin, haemoglobin, urobilinogen, and bilirubin.
b. Principles of estimation and significance of serum ferritin, iron, TIBC, serum cobalamin, red cell folate, serum folate, cry globulin.
iv. Laboratory Investigation of Bleeding Disorders:
Investigation of platelets disorders:
a. Performance of platelet count and morphology, ivy bleeding time, and template bleeding time. Interpretation of MPV and IPF in patients with low platelet counts.
b. Principles, practice, and interpretation of platelet aggregation study and thromboelastographic.
c. Understand the technique and use of flow cytometry in the diagnosis of platelet disorders.
d. Laboratory evaluation of suspected heparin-induced thrombocytopenia (HIT).
Screening and diagnosis of coagulation factor abnormalities:
a. Prothrombin time (PT), activated partial thromboplastin time (APTT), thrombin time (TT).
b. Plasma fibrinogen assay, differentiation of afibrinogenaemia, and dysfibrinogenemia.
c. FDP and D- Dimers
d. Correction studies (Mixing studies) with normal plasma, and factor deficient plasma. APTT based inhibitor screen assay for both immediate acting inhibitor and time dependent inhibitors.
e. Assays of clotting factors with particular emphasis on factors VIII and IX.
f. Urea solubility test and an assay of factor XIII
g. Screening for inhibitors against coagulation factor, especially factor VIII and IX, titration of inhibitor by Bethesda assay.
Relevant tests of fibrinolytic activity:
a. Laboratory Investigation of Thrombotic disorders:
Assays of plasma Antithrombin, protein C, protein Sand Activated Protein C resistance for factor V Leiden.
Principles of screening tests and interpretation of results for lupus anticoagulant by dRVVT as well as anticardiolipin and antiβ2glycoprotein-1 antibodies.
Laboratory monitoring of anticoagulant (heparin and direct oral anticoagulant) therapy: Anti-Xa activity diluted Thrombin Time, and Ecarin clotting time. Diagnosis of Heparin induced thrombocytopenia.
Molecular tests for diagnosis of thrombophilia like Factor V Leiden,
Prothrombin P20210A, MTHFR mutation etc.
b. Flow Cytometry: The trainee should be well versed with the principle of flow cytometry and- flow cytometer's functioning. They must be thorough with the procedure's sample requirements, processing, and analysis of the results. They should be well-versed in the interpretation of flow cytometry results for the diagnosis of haematological malignancies. They must also understand the role of a flow cytometer in evaluating red cell and platelet disorders.
c. Cytogenetics: Understanding the principle and technique of cytogenetics (particularly conventional karyotype and fluorescence in-situ hybridization), relevance, and significance of chromosomal studies in the context of various diseases.
d. Molecular Biology: Understanding the principle involved in the molecular diagnosis of hematological disorders:
DNA and RNA extraction.
RT-PCR and RQ-PCR.
RFLP and other techniques to evaluate polymorphisms.
Difference methods of mutation detection, their principle, and technique.
DNA Sequencing and fragment length analysis for monitoring response to therapy.
e. Transfusion Medicine:
Basic laboratory aspect of transfusion medicine:
ABO blood grouping (forward and reverse), Rh typing Wof donors and recipient's indirect ant globulin test), antibody identification following elution by various techniques.
Blood group compatibility (cross-matching).
Investigation of ABO, Rh, and another immune-Haemolytic disease of the newborn.
Investigations of platelet refractoriness and heparin-induced thrombocytopenia.
Donor recruitment, their clinical and laboratory evaluation before phlebotomy.
Principles of phlebotomy.
Blood component preparation and storage.
Practical and documentation procedures involved in issuing and transfusing blood and cellular components.
Principles and mechanics of blood component preparation.
Principles of apheresis and performance of the procedure concerning the collection of platelets, granulocyte, and stem cells.
Principle and performance of plasmapheresis.
Practical steps in the laboratory investigation of transfusion reactions.
f. Histopathology: Practical laboratory training and related theory should cover the following areas:
Tissue processing (particularly trephine biopsy and lymph nodes)
Techniques of cytology, including cytosine concerning body fluid, CSF in particular.
g. Knowledge in anatomic pathology and immunohistochemistry relevant to the diagnosis of the hematological disorder.
h. Biochemistry: Knowledge of the principle, technique, and interpretation of immunoassays, electrophoresis, nephelometry, etc. The role of proper and adequate sample collection and transport for the tests.
i. HLA module: understanding the principles of:
• Separation of lymphocytes using density gradient centrifugation.
• The micro-lymph cytotoxicity test and its application in HLA typing, cross-matching, and antibody screening.
• DNA-based HLA typing, including high-resolution HLA typing using next-generation sequencing.
• HLA antibody identification.
j. Nuclear Medicine: Principle of PET scan and its role in diagnosis, response assessment, and monitoring of haematological disorders
k. Radiation Oncology: The students should be encouraged to learn about radiotherapy basics and have hands-on training on linear accelerator, IGRT, IMRT, TBI, CRRT in haemato-oncological practice and blood components radiation.
Career Options
After completing a DrNB in Clinical Haematology, candidates will get employment opportunities in Government as well as in the Private sector.
In the Government sector, candidates have various options to choose from which include Registrar, SeniorResident, Demonstrator, Tutor etc.
While in the Private sector the options include Resident Doctor, Consultant, Visiting Consultant (ClinicalHaematology), Junior Consultant, Senior Consultant (Clinical Haematology),Critical Care Specialist, etc.
Courses After DrNBin Clinical Haematology Course
DrNB in Clinical Haematology is a specialisation course that can be pursued after finishing a Postgraduate medical course. After pursuing specialisation in DrNB in ClinicalHaematology, a candidate could also pursue certificate courses and Fellowship programmes recognized by NMC and NBE, where DrNB in Clinical Haematology is a feeder qualification.
Frequently Asked Question (FAQs) – DrNBin Clinical Haematology Course
Question: What is the full form of DrNB?
Answer: The full form of DrNB is a Doctorate of National Board.
Question: What is a DrNB in Clinical Haematology?
Answer: DrNB Clinical Haematology or Doctorate of National Board in Clinical Haematology also known as DrNBin Clinical Haematology is a super specialty level course for doctors in India that is done by them after completion of their postgraduate medical degree course.
Question: What is the duration of a DrNB in ClinicalHaematology?
Answer: DrNB in Clinical Haematology is a super specialty programme of three years.
Question: What is the eligibility of a DrNB in Clinical Haematology?
Answer: Candidates must be in possession of an MD/DNB (General Medicine/ Paediatrics/ Biochemistry/ Pathology) from any college/university recognized by the Medical Council of India (now NMC)/NBE.
Question: What is the scope of a DrNB in ClinicalHaematology?
Answer: DrNB in Clinical Haematology offers candidates various employment opportunities and career prospects.
Question: What is the average salary for a DrNB in Clinical Haematology candidate?
Answer: The DrNB in Clinical Haematology candidate's average salary is between Rs.5,50,000 to Rs. 19,00,000 per annum depending on the experience.
Question: Can you teach after completing DrNB Course?
Answer: Yes, candidate can teach in a medical college/hospitalafter completing a DrNB course.