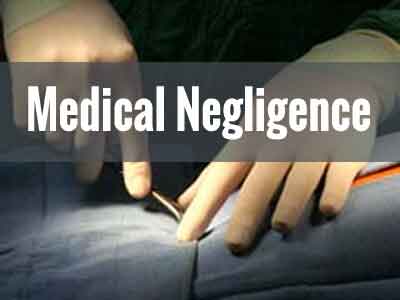 Mumbai: In a  medical negligence case pending before the Maharashtra State Human Rights commission, the commission  is reported to have pronounced its judgement after two years, holfing the doctor guilty of negligence. The Commission, in its judgement has ordered the state government to pay a compensation of Rs 5 lakhs to the patient, while also directing the Maharashtra Medical Council (MMC) to suspend or cancel the licence of the surgeon Dr Mannan Singh.
Indian Express reports about the case of a 32 year old farmer who had come to the Yashwant Rao Chavan Hospital, Pune with complaints of Varicose Veins. In September 2015 he was operated for the said disease. During the surgery, it was alleged that the operating surgeon ( the registrar at the Surgery Departnement)  damaged the femoral artery in the right leg that carries blood supply to lower limb. The artery damage led to excessive bleeding forcing Dengde to undergo amputation.
"I was given two days to decide about amputation. The doctors said I can lose my life because my leg had turned black and infection could spread," Dengde told Indian Express.
An expert committee consisting of 5 doctors from Sasoon Hospital was constituted to investigate the case which observed
"Considering the injury to femoral artery and vein, operating surgeon Dr Mannan Singh is responsible for the complications. Improper treatment technique seems to be the cause of the injury."
….."Injury caused during the surgery indicated gross negligence."
Observing from the expert committee's report, the human rights commission held the doctor guilty of negligence, directing the MMC to take action against gim. Further observing that  the patient was a sugarcane farmer, who has not been able to work since amputation, and his wife earning Rs 150 per day, the Pimpri-Chinchwad Municipal Corporation has been directed by MSHRC to pay a compensation of Rs 5 lakh to Dengde
15 comment(s) on Medical Negligence: Human Rights Commission fines Govt, Recommends suspension of Doctor