Medical Officer Suspended for making UNNECESSARY Statement to Media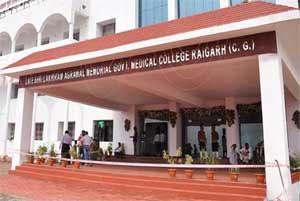 Raigarh: A senior official of a state-run medical college cum hospital in the district has been suspended after the collector found unhygienic conditions in the facility during an inspection last month and for giving an "unnecessary statement" before the media.
The suspension of Dr Anand Masih Lakra, Joint Director cum Superintendent, Lakhiram Agrawal Memorial Medical College Hospital, Raigarh, has triggered a protest with over 180 doctors and medical students demanding an immediate reversal of the action against him.
The suspension order of Dr Lakra was issued yesterday by the states Medical Education department, a Health department official said. As per the order, Dr Lakra was suspended under sub-rule (1) of Rule 9 of Chhattisgarh Civil Services (Classification, Control and Appeal) Rules, 1966, over "poor hygiene" and "improper arrangement" found during the surprise inspection of the hospital on June 2 night by Raigarh Collector and over his "unnecessary statement given to the media".
Newly-appointed Raigarh district Collector Shammi Abidi visited the hospital on June 2, during which she expressed unhappiness over the lack of hygiene and quality of other facilities there.
Subsequently, she directed the concerned officials to immediately improve the prevailing facilities at the hospital.
After her visit, some local newspapers quoted Dr Lakra as saying that the collector does not have the power to conduct any surprise checks at the medical college which is an autonomous body.
Taking a serious note of his statement, the collector submitted a detailed report to the commissioner of Health department, following which the action was taken against Dr Lakra.
Meanwhile, the medical college association has threatened that doctors and students will go on an indefinite strike if Dr Lakras suspension was not revoked.
"One-sided action has been taken against him and it should be taken back. In a memorandum to the state Governor, Chief Minister, Health Minister and health secretary, we have sought to revoke his suspension," said the association president Dr Shobhit Mane.