Medical Officer Vacancies at BHU; MBBS doctors can Apply NOW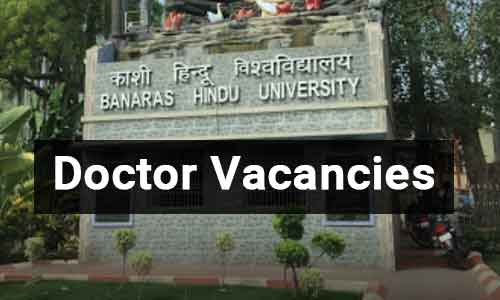 Varanasi- Banaras Hindu University (BHU) has released 05 vacancies for Medical Officer post on Contract Basis. The selection will be done through Interview.
BHU was created under the Parliamentary legislation - B.H.U. Act 1915. It played a stellar role in the independence movement and has developed into the greatest center of learning in India. It has produced many great freedom fighters and builders of modern India and has immensely contributed to the progress of the nation through a large number of renowned scholars, artists, scientists and technologists who have graced its portals. The area of the main campus of this premiere Central University is 1300 acres, having well-maintained roads, extensive greenery, a temple, an airstrip and buildings which are an architectural delight.
Vacancy Details:
Total no of vacancies: 05
Last Date of Application: 24th January 2020.
For more details about Qualification, Age, and Pay Allowance and much more, click on the given link:
https://medicaljob.in/jobs.php?post_type=&job_tags=Banaras+Hindu+University+vacancies&location=&job_sector=all
What are the General Instructions?
I. The candidate will be paid consolidated amount as mentioned against each post.
2. The duration of duty shall be from 9:30 am to 5:00 pm for 6 days a week or as and when asked by the Head of Institute or the Coordinator of Regional Resource Centre (telemedicine), IMS, BHU, Varanasi
3. The rule for leaves and holidays will be applicable as per the rule of Banaras Hindu University for candidates appointed on a purely contract basis.
4. The service conditions and facilities will be as per rules of Banaras Hindu University/NHM for candidates appointed on a purely contract basis.
5. No obligation of any kind shall be fixed on the part of BHU Varanasi.
6. The place of work shall be Regional Resource Centre (telemedicine), IMS, BHU, Varanasi.
7. Any dispute arising at a later stage shall be confined to the jurisdiction of Varanasi.
8. The decision of Honorable Vice-Chancellor, Banaras Hindu University on any dispute arising at a later stage shall be final.
9. Candidate has to bring their original documents for verification before the Interview.
IO. The selected candidate has to execute the contract document provided on a non-judiciary stamp paper of Rs. 100/-duly notarized at his/her own expense.
11. The University reserves the right to withdraw any advertised post(s) at any time without giving any reason.
12. In case of any inadvertent mistake in the process of selection which may be detected at any stage even after the issue of appointment letter, the RRC/BHU reserves the right to modify/withdraw/cancel any communication made to the candidate.
Read Also: JOB ALERT: Haryana Health Department releases 447 Vacancies for Medical Officer post