Medical Professionals skeptic of NHRC public hearings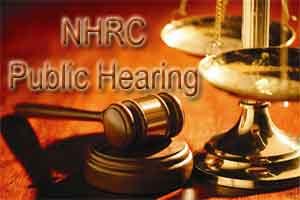 Mumbai : While the NHRC is all set to organise a public hearing against human rights violations with respect to healthcare as well as medical negligence cases at TISS Campus in Mumbai, several members of the medical fraternity have raised their concerns over the move.
What's the issue?
In the month of September,2015, NHRC in collaboration with Jan Swasthya Abhiyan, an NGO, declared that it would organise a consumer redressal mechanism with public hearings to review human rights violations in the context of public and private health care services. These hearings would involve the presence of state health officials to expedite justice for patients in case of human rights violation. The first of the hearing, concerning  4 states from the western region of the country would be held tomorrow with 125 cases being heard.
While focus of the hearings would be to take action on the health/human right violations of patients both for the public and private sector, sources say that many of the cases include those of medical negligence. This has raised many eyebrows across the medical fraternity, who fear that this may lead to further legal harassment of doctors.
Doctor's Reaction to the issue
The move of NHRC has met with a mixed response from the medical fraternity. This ranges from welcoming the move, to pure skepticism and fear among many. Speaking to Medical dialogues, DR GS Grewal, President PMC said," I welcome this move on accounts of patients rights. There have been rising instances of denial of treatments including emergency treatment to patients in both public and private hospitals, and this is not at all expected out of the medical profession. "
Doctors also pointed out that this may lead to improvement and filling up of gaps in the system as the NHRC hearing would also focus on shortcomings and policy issues including public health insurance and shortage/adsence of facilities/staff in government setups, etc. It seems, that primarily the medical negligence aspect that has raised concerns in the fraternity.
Speaking to Medical Dialogues, Dr Girish Tyagi highlighted," Human Rights commission has mandate of taking cases related to human rights violation only. Health is human right primarily in equality of access of health services. An act of alleged medical negligence/ medical professional misconduct cannot be tried by a court which does have a mandate for it from the respective government.  NHRC's attempt to hear medical negligence cases, would directly undermine the existing laws and weaken the Medical councils which are formed for this purpose only."
Why is this an Issue?
Firstly, not every medical negligence amounts human rights violation. A medical professional may incur negligence while still working in the best interest of the patients, and maintaining due respect to patients rights. Hence, doctors have questioned whether NHRC has the mandate/ to hear such cases under the same blanket?
Secondly, Medical Negligence is a tricky issue for a doctor. Based on the mandates, a medical negligence case can be filed as a criminal case with the Courts ( if it leads to violation of IPC provisions), as a consumer case with the Consumer Redressal Forum or with the state medical councils/MCI for professional misconduct and negligence. AND even all three. Then, for all practical purposes, it becomes the onus of the hospital/doctor to prove that there was no Medical Negligence. Moreover, many members of the medical fraternity are facing lawsuits in all three courts for the same cases, which many a times lead to unnecessary harassment of the medical professionals. With the NHRC also including in its mandate, medical negligence cases, there would now be a fourth court where a doctor would have to prove their innocence.
Thirdly, the concept of public hearing is raising eyebrows of medical professionals who pointed out that this may lead to unnecessary harassment as well as even defamation in some cases, especially if the doctor/hospital is not guilty.
IMA's Stance on the issue
 IMA has stated that it is not in favour of NHRC's decision to publicly hear medical negligence cases. Its stance highlights:-
"The Indian Medical Association feels that creating an additional forum for patients to complain without any clear-cut rules or guidelines in place will only add to the ongoing cases of violence against doctors in the society."
On the multiplicity of the mandates, IMA stated : "It is not correct to subject a medical doctor to investigation and harassment simultaneously by the police, consumer court, NHRC court and the ethics committee of medical council."
As a proposed solution, the IMA clearly states that "IMA feels that the right way is to go about doing this is to file complaints with the State Medical Council. It is the duty of the State Medical Council to then decide the case on basis of its merit and refer it to the consumer court for compensation if any deficiency of service is found; refer it to criminal court if they find any violation of Indian Penal Code or refer it to NHRC if they find any violation of human rights. If none of the above is found then the case should be closed on priority to avoid any unnecessary harassment of the doctor."
IMA has written to the Prime Minister of India to amend the MCI act and give more powers to the medical council