Medical Tourism to India seeing phenomenal rise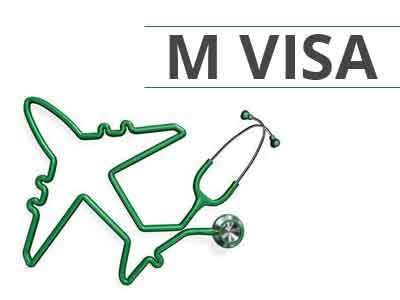 New Delhi: As an indication to Indian medical tourism gradually gaining popularity globally, inquiries about 'M' or medical visas at Indian missions and consulates are seeing a phenomenal rise. With a one year validity, these visas are issued to companions too.
Today, medical tourism has become a revenue earner of sorts for the country . Medical tourists entering the country are driven by treatment at cheaper prices. 96,856 foreigners have visited India on 'medical visas' till June this year reveal the Ministry of Tourism figures. The number of 'M' visa  entrants who entered India was 56,129 in 2013,  rising to 75,671 in 2014, and again to 1,34,344 in 2015. The largest number constituted of the ailing from Bangladesh.
Dermatology procedures are witnessing an up swing among medical tourists as they are offered by India at relatively cheaper prices, in comparison to other countries.Cosmetic procedures like lasers, Botox and skin surgeries such as face lift and nose jobs  are seen to be gaining grounds with hospitals in India. These are very costly in other countries. People from Bangladesh and Afghanistan are lining up for these procedures to India, as they do not find any cover under insurance plans.
"I receive 30 to 40 patients every month who come on medical visas from other countries. I also get many patients from Europe because in India we use European machines that are otherwise very costly in other countries, and definitely attract patients to rush for availing these services," says Dr. Deepali Bharadwaj, a Delhi based Dermatologist.
A Korean patient Rehana revealed that she had got a nose surgery done for Rs.35,000 in India. Back home the same procedure would have costed over Rs. 60 to Rs.70,000 she stated .
The other treatments being covered under the M Visa include: minimal invasive surgery, oncology services, orthopaedics and joint replacement, and holistic health care. These are  provided by about 45 hospitals promoted as "centres of excellence" in India.
Besides cheaper prices, India also offers  world-class treatment along with  attractive resorts for convalescence.
Another fact revealed by the CII states  that  150 000 medical tourists came to India in 2005, based on feedback from the organisation's member hospitals.However, figures for M-visa entrants are not readily available. CII spokesperson Aditya Bahadur  talking to the media said  patients prefer to come on ordinary tourist visas in order to avoid  patient registration with regional authorities within two weeks of arrival; an M Visa requirement. Besides this the Ministry of health has applied its own measures to ensure quality care for medical tourists. One of these measures being accreditation to hospitals and standardisation  of prices for services offered .
In contrast, to provide  guarantee of service quality for medical tourists, the Indian Ministry of Health has begun accrediting hospitals and recommending prices for services. So far 35 hospitals have applied for accreditation.
CII has a certification system and has already approved 30 of its 120 hospital members. Under the CII system, certified hospitals have to limit charges for foreigners. This is part of a dual pricing-system that offers domestic patients lower prices. Non-resident Indian medical tourists are charged the same as any others coming in outside the country.
Another interesting aspect that is emerging in medical tourism is- litigation resulting due to treatments offered in India. The Indian courts are not open to M visa litigation. Tourists or NRI's can only address issues to the State and National Consumer Disputes Redress Commissions which already carry the burden of piled up cases.
"Any litigation launched against an Indian hospital will expose the poor system of justice that exists here," said Dr Mohan Thomas, Medical Director,Cosmetic Surgery Institute, Mumbai and Chairman of CII's Healthcare Committee.
The fall outs of medical tourism include public health sector weakening, as it is feared that medical tourism could attract professionals from the public sector and rural areas to take jobs in urban centres. Dr Manuel Dayrit, Director, WHO's Human Resources , Health disagrees with those who argue that medical tourism revenue  would finally find go into the public treasury, encouraging retention of staff in the public sector.
"Unless national laws or regulations are set up so that these revenues are taxed explicitly and channelled to the public sector to augment salaries, the likelihood of this happening is very slim," added Dr. Dayrit.