Combined Intervention doubles chances of Tobacco Cessation among Expectant Fathers: JAMA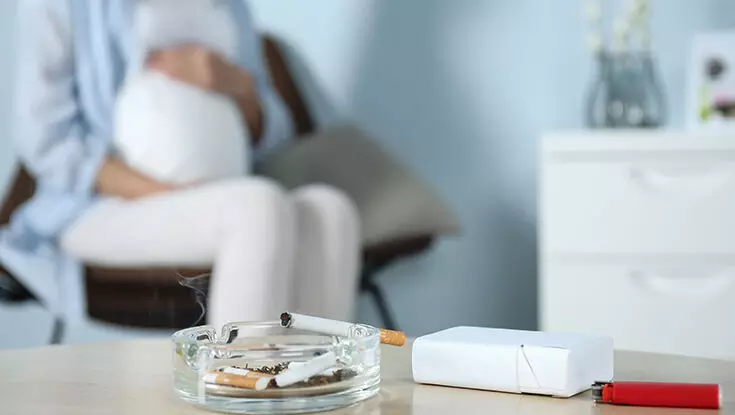 Researchers have found in a new study that Proactive, Combined Intervention Shows Better Odds of Tobacco Cessation Among Expectant Fathers.

Providing brief advice along with 1-week Nicotine Replacement Therapy (NRT) samples and active referral to smoking cessation services was associated with a higher biochemically validated tobacco abstinence, according to a study published in the Journal of the American Medical Association
Perinatal exposure to tobacco smoke has detrimental effects on the growing fetus and can pre-dispose the fetus to a number of abnormalities and disorders. In order to evaluate the effectiveness of a proactive, combined intervention for smoking cessation in expectant fathers, researchers at the University of Hong Kong collaborated with the Department of Obstretics and Gynecology across 7 public hospitals in Hong Kong.
They conducted a randomized control trial among 1053 participants. The participants were male adults (18 years and older), who smoked cigarettes daily in the past 3 months, had partners who were pregnant and non-smoking in the past 30 days, and had a landline or mobile telephone number for follow-up. They were randomized to either the intervention group or the control group. The primary analyses used an intention-to-treat approach.
According to the results of the study,
i) The retention rate at 6-month follow-up was 80.7%.
ii) The primary outcome of biochemically validated tobacco abstinence at 6 months after intervention initiation was significantly higher in the intervention group than in the control group (6.8% [36 of 527 participants] vs 3.6% [19 of 526].
iii) The main secondary outcomes of self-reported 24-week continuous abstinence at 6 months (OR, 1.87; 95% CI, 1.08-3.23; P = .03) and 7-day point prevalence abstinence at 3 months (OR, 1.48; 95% CI, 1.05-2.09; P = .03) and 6 months (OR, 1.74; 95% CI, 1.29-2.34; P < .001) were also significantly higher in the intervention group.
iv) The intervention group had a significantly higher increase in perceived family harmony (score range, 0-10, with a higher score indicating a higher level of harmony) from baseline to 6 months (B = 0.28; 95% CI, 0.063-0.50; P = .01).
"Combining brief advice with a 1-week sample of NRT and referral to smoking cessation programs nearly doubled the odds that expectant fathers who smoked would achieve validated abstinence compared with providing brief advice alone. The intervention was also effective in promoting family harmony," the research team concluded.
Reference:
The study titled, "Brief Advice, Nicotine Replacement Therapy Sampling, and Active Referral for Expectant Fathers Who Smoke Cigarettes: A Randomized Clinical Trial," is published in the Journal of the American Medical Association (JAMA Internal Medicine).
DOI: 10.1001/jamainternmed.2021.2757