Smart Glasses help monitor COVID-19 patients remotely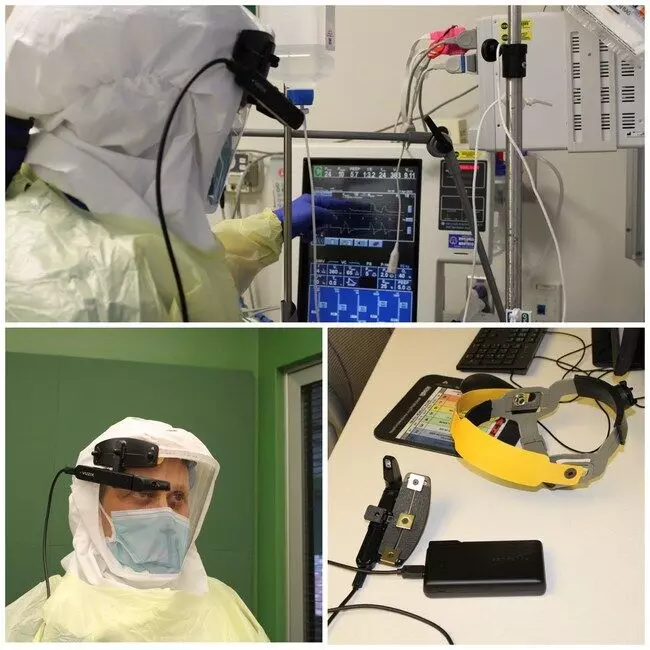 ROCHESTER, N.Y. -In season of Covid 19 more and more institutions are using Smart Glasses and Augmented Reality (AR) technology to facilitate patient care.Vuzix® Corporation (NASDAQ: VUZI), ("Vuzix" or, the "Company") is the leading supplier of smart glasses.
Leveraging medical expertise is a world problem. Tele-medicine is the remote delivery of healthcare services through technology. Smart glasses are uniquely helpful for tele-medicine use-cases in that the onsite care practitioner can receive live expert interactive medical feedback while simultaneously acting on the feedback with their hands.
A paramedic can now stream directly to a hospital-based doctor without pausing care to the patient. The collaboration can save lives.
Vuzix glasses are now being used by doctors in the Johns Hopkins Hospital ICU for training and conducting remote virtual patient rounds in response to COVID-19.
Smart glasses employing Waveguide-based optics have many enterprise and commercial uses such as warehousing, remote support, manufacturing, navigation, entertainment, gaming and learning. The possibilities for this technology are constantly growing and evolving with the changing demands of industry.
In recent Twitter posts (here and here) from the account of Johns Hopkins Anesthesiology and Critical Care Medicine, Drs. Nicholas Dalesio and Laeben Lester introduced the Vuzix M400 Smart glasses as part of a new program to provide secure hands-free telecommunication for training, monitoring patients and to conduct remote virtual rounds for adult patients in a newly converted ICU.
Wearing the Vuzix M400 Smart Glasses, clinicians are collaborating on appropriate medical treatments via video and audio streaming in real-time to remote audiences and experts, reducing exposure and conserving personal protection equipment during the COVID-19 pandemic.
"We are pleased to see the staff at the Johns Hopkins Hospital utilizing our M400 Smart Glasses to help them deliver remote training and monitor patients," said Paul Travers, Vuzix President and Chief Executive Officer.
For further reference log on to:
http://www.vuzix.com
Source : Vuzix Corporation