Acyclovir: How it reduces viral load and speeds up healing in herpes lesions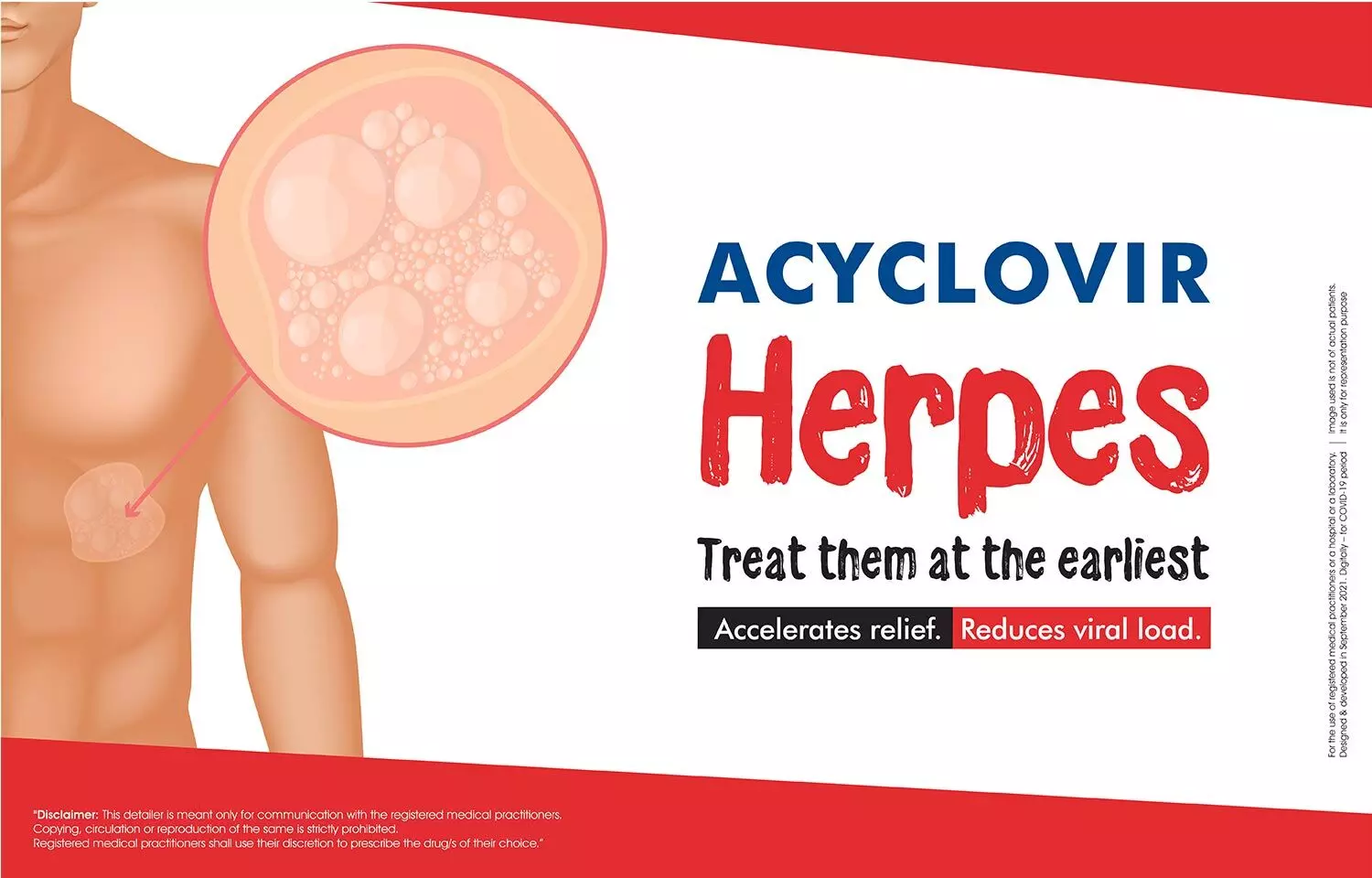 New Delhi: Acyclovir is a medication commonly used in the management and treatment of infections caused by the herpes simplex virus (HSV). It is available in a wide range of formulations ranging from topical ointments, gels, oral tablets and IV (intravenous) formulations. The drug is FDA approved to treat genital herpes and HSV encephalitis and some off-label uses include cold sores, shingles, and chickenpox. Lately, its role in HIV has fetched great interest. This article aims to revisit the outstanding impact of Acyclovir on viral load through which it provides remarkable results in aforementioned viral infections; especially the oral and topical forms which are easy to use for patients and are more renal safe than the IV forms of the drug.
The journey from lab to the clinic:
A screening program for antiviral drugs at Burroughs Wellcome in the 1960s resulted in the discovery of acyclovir in 1974. A preclinical investigation brought the drug to clinical trials in 1977 and the first form of the drug (topical) was available to physicians in 1982. (1)
Mechanism of action and why it selectively inhibits virus-infected cells?
The activity of acyclovir is greatest against herpes 1 and herpes 2, and modest against varicella.Its antiviral activity is triggered by phosphorylation which can only occur in virus-infected cells (thus spares the healthy cells). Acyclovir triphosphate inactivates viral DNA polymerase causing its termination.(2)
Why is hit-early-hit-hard the universal dictum in herpes?
HSV infection results in life-long morbidity due to recurrent reactivations of latent ganglionic infection. Initiation of aciclovir administration within 24 hours of viral challenge can reduce the establishment of viral latency following primary infection, but the eradication of established latent virus has not been achieved. In other words, if started early, it can prevent the establishment of latency and also promote quicker healing of the primary lesions.4
Drug kinetics 5: Absorption of oral aciclovir is modest and variable, with a bioavailability of 15 to 30%. There is no systemic absorption of topical aciclovir from the ointment, but 30 to 50% of the drug reaches the basal epidermis in cutaneous infections treated with the cream formulation, and substantial intraocular penetration occurs with the ophthalmic ointment. These properties account for the excellent safety and efficacy profile of the topical formulations.
Orally or intravenously administered aciclovir is distributed to a wide range of tissues and fluids. Interestingly, drug interactions appear to be scarce.3
Performance in the clinical arena:
1. In Immunocompetent Patients(3,6,7,8,9)
Double-blind placebo-controlled studies in immunocompetent patients have demonstrated the efficacy of oral (200mg 5 times daily) and topical (applied 4 to 6 times daily) aciclovir initiated within 4 days of the first symptoms of HSV perinatal infection. The duration of viral shedding and time to complete healing of lesions are significantly reduced, particularly in the primary episode.
Comparison of topical aciclovir with intramuscular interferon-α has demonstrated no significant differences in the treatment of primary genital herpes infection, with a trend in favour of aciclovir in parameters involving time to healing, pain, and viral response.
Most well-controlled trials have shown complete suppression of genital herpes recurrence in 71% to 88% of immunocompetent patients, using prophylaxis with oral aciclovir 800 to 1000 mg/day for up to 2 years. But it is noteworthy that prophylaxis should not be terminated prematurely since recurrence rates jump back to pretreatment levels on drug discontinuation.
Complete suppression of recurrence for 5 years has been achieved in 20% of patients on aciclovir prophylaxis (800 to 1600 mg/day).
Oral aciclovir therapy causes significant improvements in recurrent orofacial and cutaneous infections if begun as early as possible after reactivation. Prophylaxis with topical, and especially oral aciclovir reduces the severity and frequency of orofacial and cutaneous HSV recurrence during treatment.
Aciclovir 3% ophthalmic ointment 5 times daily eliminates 95 to 100% of herpetic dendritic corneal ulcers in 5 to 9 days. The combination of aciclovir with topical interferon-α shortens the time to healing of superficial herpetic keratitis. Prophylaxis with oral aciclovir 800 to 1000 mg/day for 12 to 15 months completely prevented HSV keratitis recurrence in all patients undergoing penetrating keratoplasty.
Chickenpox10: there is some controversy over the role of aciclovir in treating varicella (chickenpox) in otherwise healthy individuals since the disease is usually self-limiting. Nonetheless, oral aciclovir initiated within 24 hours of the appearance of the rash associated with varicella (chickenpox) has resulted in decreased numbers of lesions, duration of new lesion formation, severity or duration of pruritus, time to healing and duration of fever in otherwise healthy children, adolescents and adults in several well-designed studies.
Shingles: In patients with herpes zoster (shingles), oral (4000 mg/day for 7 days) aciclovir treatment begun within 72 hours of exanthem onset attenuates the development of rash and pain, offers protection against ocular involvement and appears to decrease the duration of post-herpetic neuralgia.
Immunocompromised patients(11,12,13)
Oral (2000 mg/day) aciclovir is well established in the treatment of immunocompromised patients with HSV infections. Severe infections refractory to normal dosages of aciclovir (such as HSV hepatitis, or infections caused by viruses deficient in thymidine kinase activity) may respond to higher dosages, as demonstrated in case reports.
Oral aciclovir is also effective in promoting healing and preventing the dissemination of varicella in immunocompromised patients, and topical aciclovir reduced time to pustulation, crusting and healing in immunocompromised patients with localized herpes zoster.
Virtually complete suppression of latent HSV or VZV infections during intravenous or oral aciclovir prophylaxis has been demonstrated in most patients at increased risk of recurrence because of bone marrow transplantation, radiotherapy, or cytotoxic chemotherapy, while up to 50% of infections that did recur involved asymptomatic viral shedding only.
Oral aciclovir prophylaxis has provided protection against HSV and VZV infections in patients receiving renal transplants, and against HSV infections in liver and heart transplant recipients, with complete suppression of clinical symptoms during treatment in most patients.
Tolerability(3):
Aciclovir is well tolerated whether administered by ocular, topical, oral or intravenous routes. Adverse reactions to topical preparations have been mainly limited to mild local effects.
Summary:
To conclude, the salient take-home messages for clinicians are:
1. Aciclovir is a broad-spectrum antiviral with applications ranging from various herpes infections, chickenpox, shingles and recently its use in HIV patients has started attracting attention.
2. The benefit is directly related to the impact on viral load which in turn depends on the timing of initiation of therapy. Earlier initiation leads to better outcomes for primary infection as well as decreases the frequency of recurrences.
3. IV formulation has a specific role in conditions like encephalitis, but for a majority of the skin and mucosal infections, including ophthalmic infections, the oral and topical forms suffice and are safer as far as renal safety is concerned.
4. No regular monitoring of blood levels is needed when using topical or oral forms in otherwise healthy individuals.
REFERENCES
• 1. King DH. History, pharmacokinetics, and pharmacology of acyclovir. J Am Acad Dermatol. 1988 Jan;18(1 Pt 2):176-9.
• 2. Schaeffer HJ Acyclovir chemistry and spectrum of activity.Am J Med. 1982; 73: 4-6
• 3.Wagstaff, A.J., Faulds, D. & Goa, K.L. Aciclovir. Drugs 47, 153–205 (1994).
4.Blum MR, Liao SHT, de Miranda P. Overview of acyclovir pharmacokinetic disposition in adults and children. Acyclovir Symposium. American Journal of Medicine 73: 186–192, 1982
5. Collins P. The spectrum of antiviral activities of acyclovir in vitro and in vivo. Journal of Antimicrobial Chemotherapy 12 (Suppl. B): 19–27, 1983
6.Ashley RL, Corey L. Effect of acyclovir treatment of primary genital herpes on the antibody response to herpes simplex virus. Journal of Clinical Investigation 73: 681–688, 1984
7.Baker DA, Blythe JG, Kaufman R, Hale R, Portnoy J. One-year suppression of frequent recurrences of genital herpes with oral acyclovir. Obstetrics and Gynecology 73: 84–87, 1989
8. Barton IG, Kinghorn GR, Rowland M, Jeavons M, Al-Omer LS, et al. Recurrences after first episodes of genital herpes in patients treated with topical acyclovir cream. Antiviral Research 4: 293–300, 1984
9. Cobo LM, Foulks GN, Liesegang T, Lass J, Sutphin J, et al. Oral acyclovir in the therapy of acute herpes zoster ophthalmicus. Ophthalmology 92: 1574–1583, 1985
10. Balfour Jr HH, Kelly JM, Suarez CS, Heussner RC, Englund JA, et al. Acyclovir treatment of varicella in otherwise healthy children. Journal of Pediatrics 116: 633–639, 1990
11. Balfour Jr HH, Bean B, Laskin OL, Ambinder RF, Meyers JD, et al. Acyclovir halts progression of herpes zoster in immunocompromised patients. New England Journal of Medicine 308: 1448–1453, 1983
12. Barton IK, Nicholson F. Use of pooled immunoglobulin and acyclovir as prophylaxis against cytomegalovirus disease in recipients of renal allografts. Nephrology Dialysis Transplantation 6: 525–526, 1991
13. Chazotte C, Anderson HF, Cohen WR. Disseminated herpes simplex infection in an immunocompromised pregnancy: treatment with intravenous acyclovir. American Journal of Perinatology 4: 363–364, 198
14. Lingappa JR, Baeten JM, Wald A, et al Daily acyclovir for HIV-1 disease progression in people dually infected with HIV-1 and herpes simplex virus type 2: a randomized placebo-controlled trial. Lancet. 2010 Mar 6;375(9717):824-33. doi: 10.1016/S0140-6736(09)62038-9.
15. Ruel TD, Boivin MJ, Boal HE, et al. Neurocognitive and motor deficits in HIV-infected Ugandan children with high CD4 cell counts. Clin Infect Dis. 2012;54(7):1001-1009. doi:10.1093/cid/cir1037 Medical Dialogues Bureau consists of a team of passionate medical/scientific writers, led by doctors and healthcare researchers.  Our team efforts to bring you updated and timely news about the important happenings of the medical and healthcare sector. Our editorial team can be reached at editorial@medicaldialogues.in.