Improving Clinical Outcomes with the Use of Doxycycline in Dengue and Malaria - An Indian Experience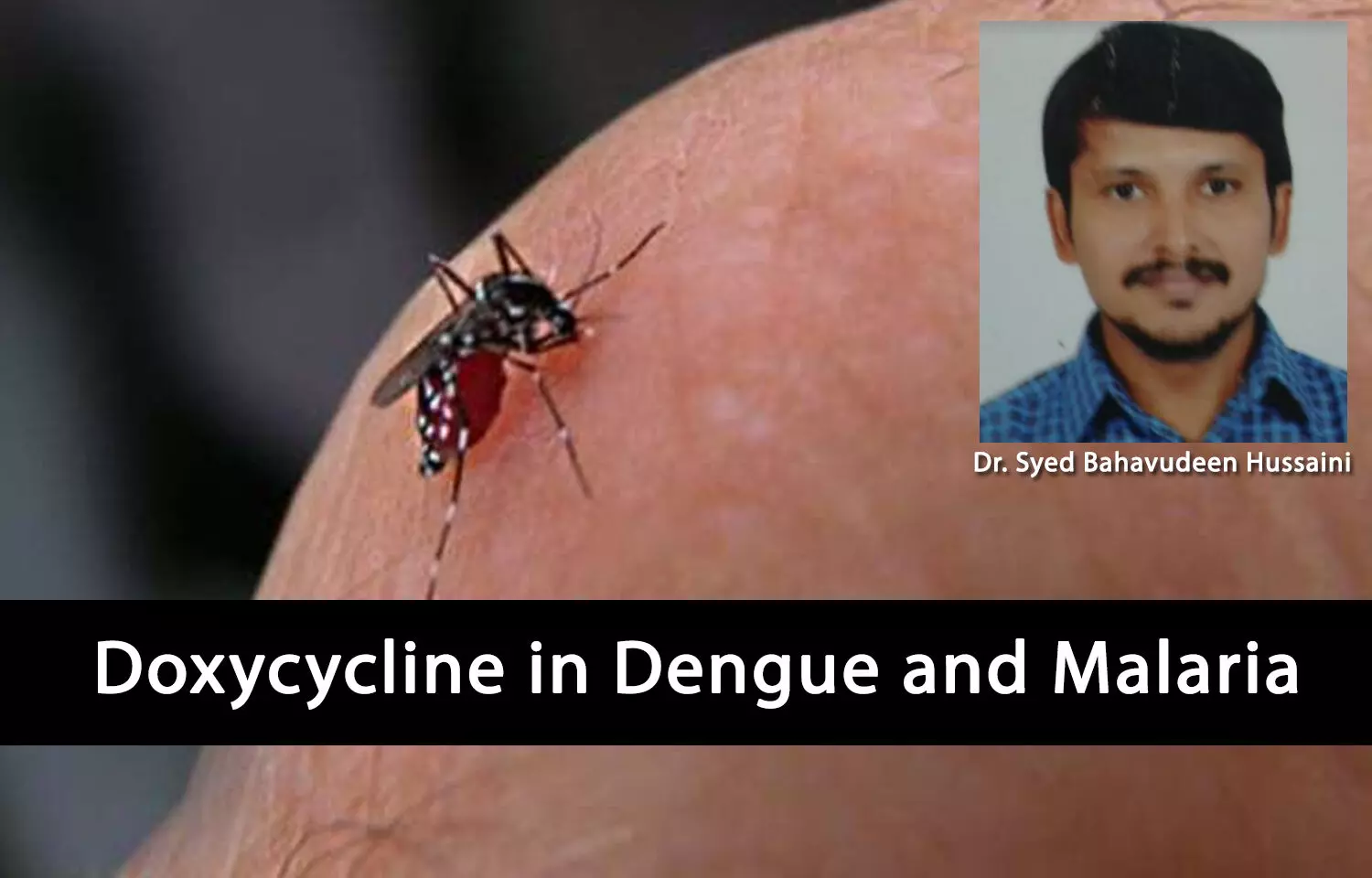 Dengue and Malaria are major public health diseases in India. In the setting of an ongoing pandemic concurring with monsoons in many parts of the country, there will be an ever-increasing burden and challenge of managing both these infections in primary care settings. The scope and therapeutic potential of oral doxycycline in both dengue and malaria are worthy of a review to bring out its clinical application in real-world practice settings.

Doxycycline – Improves Mortality Outcomes in Dengue
Doxycycline garnered limelight when a study published in dengue hemorrhagic fever patients indicated that it decreased pro-inflammatory cytokines, including interleukin-6 (IL-6) and tumor necrosis factor (TNF)-alpha, leading to a mortality rate that was 46 % lower in the doxycycline-treated group (11.2 %) compared to the standard care group (20.9 %).(1)
Meta-analysis authored by Jenny Lyn Mangulabnan et al.(2) showed that doxycycline treatment lowered serum IL-6 and TNF-alpha, both at day 3 and day 7 post-treatment in patients with dengue fever.
Doxycycline in Dengue – Indian Experience
Bhattacharjee B et al, from India, conducted a study to evaluate the effect of doxycycline on clinical outcomes in dengue fever. Adults and children diagnosed with dengue who were admitted to inpatient care were included. The diagnosis was confirmed by serology - dengue NS1Ag or Dengue IgM or both; by the ELISA method before enrolment.
Patients were randomly divided into two groups. The treatment group received oral Doxycycline 100 mg twice daily for 5 days in addition to standard care, while the control group received only standard care. Patients were managed and followed up as per National Vector Borne Disease Control Program (NVBDCP) guideline. Treatment received and outcomes concerning complications and mortality were recorded.
The results of this study demonstrated that 75% of patients in treatment group had no bleeding, and none of them reported major bleed; whereas, in the control group, 25% of patients had major bleeding. Plasma leakage was found to be less in treatment group (25%) as compared to control group (58.3%). Forty-one percent of patients in the doxycycline intervention arm reported no thrombocytopenia in comparison to 16.70% of patients in the control arm. About 8.30% of patients had platelets lower than 10,000/ cubic millimeter (cmm) in the treatment group as compared to 16.70% in control group. Control group reported deranged biomarkers indicative of pancreatic, renal, and cardiac involvement in 16.60%, 8.30%, and 8.30% patients, respectively. In contrast, no pancreatic, renal, or cardiac involvement was evident in the doxycycline-treated group. The study concluded that doxycycline treatment showed a significant reduction in complications of dengue fever, conferring protection against the risk of multi-organ failure. (3)
Doxycycline in Malaria Prophylaxis

Among tetracyclines, doxycycline is the only one recommended, as anti-malarial prophylaxis .(4) In 1994, thirty-four years after its initial development, doxycycline was approved as prophylaxis against malaria by the Food and Drug Administration. Efficacy of Doxycycline for prophylaxis against P. falciparum malaria have been reported in clinical trials conducted in eight countries across South Asia and Africa with demonstrated efficacy above 90% in most of the studies(5)
Use of Doxycycline in Malaria: Indian Guidelines and Protocols
In an article published by BN Mohapatra and CBK Mohanty, it is cited that for short term (less than 6 weeks) chemoprophylaxis of malaria, Doxycycline 100 mg/day (1.5 mg/kg of body weight per day) is to be started 2 days before and continued 4 weeks after leaving a malaria-endemic area. It is not recommended for pregnant and lactating women and children below 8 years of age.(6)
As per guideline recommendations by the Ministry of Health and Family Welfare for Diagnosis and Treatment of Malaria, in severe and complicated malaria, following parenteral treatment, when a patient can take oral medications, doxycycline 100 mg once a day for 7 days added to quinine may be considered as one of the treatment options. This excludes use in pregnant women and children under 8 years of age(7)
Doxycycline in Patients Suspected with Malaria and Dengue – ICMR Guidelines
It is noteworthy that in the latest Indian Council of Medical Research (ICMR) treatment guidelines for Antimicrobial Use in Common Syndromes,(8) it has been cited under the 'management of acute fevers', that empirical treatment with doxycycline for patients with undifferentiated fever and negative rapid diagnostic tests for malaria and dengue is an option for the clinician.
Final Summary
Dengue and Malaria are frequently encountered in primary outpatient care settings during these times of the year in most parts of India. Both these infectious diseases may have life-threatening sequels. It may be prudent for the clinician to make an evidence-based therapeutic choice for their effective management. Doxycycline seems a valuable consideration based on available scientific evidence as well as guideline recommendations.
The above article has been published by Medical Dialogues under the MD Brand Connect Initiative. For more details on Doxycycline, click HERE
References
Adapted from
1. Fredeking TM, Castro JEZ, Vado-Solis I, Perez-Osorio C. Modulation of cytokine and cytokine receptor/antagonist by treatment with doxycycline and tetracycline in patients with dengue fever. Clin Dev Immunol 2011, doi:http://dx.doi.org/10.1155/2011/370872
2. Mangulabnan JL, Ogbac F. Effects of doxycycline on lowering IL-6 and TNF among patients with dengue haemorrhagic fever: a meta-analysis. 27th ESCMID. 2017
3. Boudhayan Bhattacharjee et al, Dengue and doxycycline-experience in a tertiary care hospital in eastern India in the year 2017 - An initial report, J Pharmacol Ther Res 2018;2(2): 14-17
4. Willerson D Jr, Rieckmann KH, Carson PE, Frischer H. Effects of minocycline against chloroquine-resistant falciparum malaria. Am J Trop Med Hyg. 1972;21:857–62.
5. Gaillard et al. Tetracyclines in malaria, Malar J (2015) 14:445 DOI 10.1186/s12936-015-0980-0
6. BN Mohapatra, CBK Mohanty, Indian Guidelines and Protocols: Malaria, API Chapater 2, Section 1: Page1-5
7. National Vector Borne Disease Control Programme (NVBDCP), Ministry of Health and Family Welfare for Diagnosis and Treatment of Malaria, 2013, Page 1-20
8. Treatment Guidelines for Antimicrobial Use in Common Syndromes, Indian Council of Medical Research 2019, 2ND Edition, Pages 1-26 Dr.Syed Bahavudeen Hussaini, MBBS, MD, DNB, FICP, is a practising physician with experience of more than 20 years and is currently working as an Associate professor of Medicine Government Theni Medical College. He is also a Fellow of the Indian College of Physicians and has presented many papers at National and State Conferences. His interest lies in recent advances in Medicine.