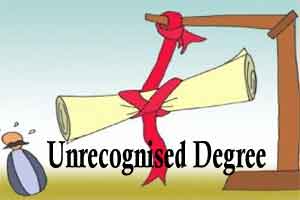 New Delhi: With the NEET PG 2019 results out, medicos across the country who have successfully cleared the exam are in the process of hunting down which PG medical courses they can pursue in which medical colleges. Before planning on a particular course, it is indeed important for the candidate themselves to be aware whether this course is recognised by the Medical council or not
The Medical Council of India, the apex medical regulator recently issued a notice reiterating this point
It is hereby informed that under the provision of the Indian Medical Council Act, 1956 prior permission of Central Government is required to establish a new medical college and impart courses in modern medicine. Such permission is granted by the Central Government on the recommendation of the Medical Council of India/ Board of Governors in Supersession.

The admissions made by any institution that imparts courses in modern medicine, namely, MBBS, or Diploma in various streams of medicine; MD/ MS/ DM/M.Ch without the prior permission of the Central Government is illegal and students so admitted shall not get recognized medical qualification entitling them to practice medicine.
The Medical Council also warned about one such course, which are offered by certain institutions, but is actually not recognised by the council. ( Course known as  CMS & ED/CMS diploma course i.e. Community Medical Services & Essential Drugs)
It has recently come to the notice of the Medical Council of India that:

1    CMS & ED/CMS diploma course has not been prescribed in Postgraduate Medical Education Regulations, 2000.

It may be noted that the above courses have not been accorded permission by the Central Government as statutorily required under Section 10A of the Indian Medical Council Act, 1956 Consequently, such qualifications are non-recognized and the holders thereof are not entitled to seek registration of Qualification/Additional qualification with the concerned Medical Council. Thus, the offering of such Postgraduate courses in Modern Medicine is illegal and void ab initio.

By way of this notice as well as earlier notice issued by the Council on 28.09.2016 and 03.07.2018 all concerned are informed not to enroll themselves in such courses.
The notice added that information for courses that are recognised by the council are easily available on the MCI website and advised students and parents to refer to the same before taking admissions
Further, it is also brought to the notice that the updated list of Medical Colleges/Courses are available on the Medical Council of India website, i.e. www.mciindia.org along with the status of the college and number of seats approved/permitted.

All students/parents/general public are advised to check the status of Medical Colleges before taking admission in any of the Medical Colleges/Courses in Modern Medicine.

It may also be noted that only those holding recognized medical qualifications and enrolled on the State Medical Register are entitled to practice modern medicine.
19 comment(s) on Medicos Beware: Medical Council of India warns against unrecognised PG Medical Course, Issues Advisory