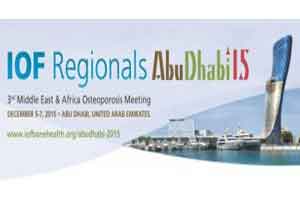 The meeting is to be held from December 05-07 in Abu Dhabi this year, and, will focus on the increasing concern of majority of population suffering from chronic diseases of diabetes and arthritis in the discussions
Amidst the growing concern of increasing people in the Middle East suffering from chronic diseases, including diabetes and osteoporosis, the International Osteoporosis Foundation, has come forth to put a discussion on the topic this year. IOF is organising the 3rd Middle East & Africa Osteoporosis Meeting from December 5-7, 2015 in Abu Dhabi. The event will be held in cooperation with the Emirates Osteoporosis Society (EOS).
The region's own large scale event on the musculoskeletal field, will feature the latest research papers, and discussions from around the world. A round of 60 sessions will be presented at the meeting, including educational lectures and workshops. The participants can expect to gain knowledge of the special challenges in the diagnosis and management of bone disease, including in diabetic patients.
The attendees can also look forward to expert sessions with the participating members, workshops and a special session during which challenging cases can be discussed with the experts.
In the coming decades the region will be facing the highest proportional increase in hip fracture rates in the world, with rates projected to quadruple by 2050 in some countries. Diabetes (type 2) will affect close to one in 10 adults in the region, with cases rising rapidly .
Plenary topics and speakers include:
Fracture Prediction (JA Kanis) & Fracture Healing (SA Majeed)
Vitamin D During the Lifecourse (I Zakraoui, C Cooper, G El Hajj Fuleihan)
Who is at Risk and Who to treat? (M Al-Maini, T De Villiers, M Alshaker)
Treat to Target (S Ferrari, J-Y Reginster)
Challenges with Osteoporosis Therapy (A Khan, H Badsha)
New Treatments, incl. sarcopenia (JY Reginster, R Rizzoli)
0 comment(s) on Middle East and Africa Osteoporosis event to focus on bones and diabetes