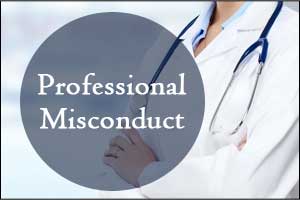 New Delhi : In recent times, with rising complaints against medical practitioners of issues of negligence, professional misconduct,  it is important that there be a transparent and a time bound procedure for investigation as well as decision making. This is indeed important both for the complainant as well as the practitioner so accused, so as to avoid unnecessary harassment of either parties
Medical Dialogues team had recently reported that the Medical Council of India through its study group was also seen clearly seen defining the act of professional misconduct, which was defined as follows
Professional misconduct means unacceptable/dishonorable and unethical behavior by a professional person or non compliance with the applicable laws and regulations.
Read Also: MCI defines Professional Incompetence, issues Guidelines
Now,through a recent public Notice, the Ministry of Health and Family Welfare has drawn attention towards Medical Council of India's Indian Medical Council (Professional Conduct, Etiquette and Ethics) Regulations, 2002.  In the said Regulations, the procedure has been prescribed for taking action on any misconduct of a registered medical practitioner. The health ministry, through its notice has reiterated the procedure, where emphasis can be laid upon on the time-bound treatment of complaints. The procedure to be followed is as follows
In-case of any professional misconduct by any medical practitioner under registered Indian Medical Council, the appellate can complaint to the respective State Medical Council for initiating enquiry and action. State Medical Council upon receipt of complaint would hold an enquiry and give opportunity to respondent/pleader to be heard in person.
Decision on complaint against the delinquent physician shall be taken within a time limit of 6 months. During the pendency of the complaint the state medical council/IMC may restrain the delinquent physician from performing the procedure which is under scrutiny.
In-case of Medical practitioner found guilty of professional misconduct, then the State Medical Council concerned may award punishment to the delinquent physician as per the regulation.
Where the MCI is informed that any complaint against a delinquent physician has not been decided by State Medical Council within a period of 6 months from the date of receipt of complaint by it, then MCI may, impress upon the concerned State Medical Council to conclude and decide the complaint within a time bound schedule or may decide to withdraw the said complaint pending with the concerned State Medical Council straightaway or after the expiry of the period which has been stipulated by the MCI, to itself and refer the same to the Ethics Committee of the Council for its expeditious disposal in a period of not more than six months from the receipts of the complaint in the office of the Medical Council of India.
 The person aggrieved by the decision of the State Medical Council on any complaint against a delinquent physician, shall have the right to file an appeal to the MCI within a period of 60 days from the date of receipt of the order passed by the said Medical Council. Provided that the MCI may, If it is satisfied that the appellant was prevented by sufficient cause from presenting the appeal within the aforesaid period of 60 days, allow it to be presented within a further period of 60 days.
6 comment(s) on Misconduct by Doctors: Health Ministry Notifies Time-bound Procedure