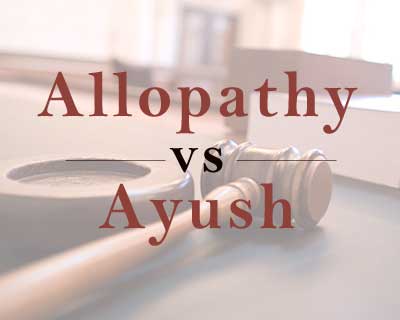 New Delhi: The need of the hour is to streamline the Ayurveda, Yoga and Naturopathy, Unani, Siddha and Homeopathy (AYUSH) systems of medicine by standardization and quality control of ASH drugs and improving the quality of education and healthcare services through Ayush, said a Parliamentary panel.
The committee, however, pointed out that it is often seen that practitioners of modern medicine do not have much faith on Ayush system and often question their credibility and scientific validation.
The curricula of both modern systems of medicine and Ayush system need to be changed in such a way to strive for integration in the study of medical education itself followed by cross system referrals and integrated healthcare services, said a Parliamentary Standing Committee report on Health and Family Healthcare.
The committee said such an integrated approach towards both systems of medicine would help in understanding the strengths of each system of medicine and also increase the credibility of Ayush approach.
The panel strongly recommended the ministry to take steps in introducing modules of modern system of medicine in the curriculum and pursue the Health and Family care ministry for introducing similar modules of Ayush systems in their MBBS course.
The committee appreciated the Ayush ministry for having co-location of Ayush facilities at Primary Health Centers (PHCs), Community Health Centers (CHCs) and District hospitals, participation of Ayush doctors in National Health Programme and Public Health Outreach activities and research activities undertaken to facilitate integration of Ayurveda and Allopathic system of medicine.
The panel, headed by Prof Ram Gopal Yadav, recommended that the Ayush ministry should earmark a substantial amount of funds for collaborative research with the Indian Council of Medical Research (ICMR) for the purposes of standardization and scientific re-validation of ASU&H drugs, so these remedies have worldwide acceptance and scientific basis of Ayush is augmented.
69 comment(s) on Modern Medicine Should be Made part of AYUSH Curriculum and Vice- Versa: Parliamentary panel