Mohalla clinics promise to fill healthcare vacuum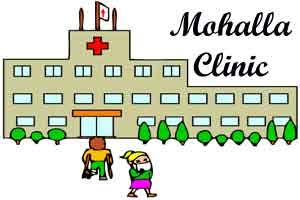 New Delhi: A mother with her bawling kid, an infirm elder of the locality, and the owner of a grocery shop stand expectantly - waiting for the 'mohalla clinic', seen as a radical promise in Delhi's primary health care, to throw open its doors.
The clinic, tucked away in a narrow lane of Patparganj's West Vinod Nagar locality, is part of 21 such facilities which were launched by the Delhi government on March 31. The AAP government plans to set up 1,000 such clinics by December 31.
The necessity of the initiative, still in its pilot phase, becomes clear by the hour, as on a Thursday morning, a steady stream of people troop in and out of its freshly painted rooms, their floors hastily tiled.
Dr Ranjana Saxena, in-charge of the Patparganj clinic, says that since its launch she has been attending to around 70 patients everyday during the four odd hours it remains open, between 9 AM-1 PM.
"We are paid per patient. Initially we were told that the government will bear the charge of any assistants we employ. But now ASHA workers have been attached with us instead," Dr Saxena says.
Soon after she admonishes 62-year-old Babulal Sharma, a patient of high blood pressure and thyroid for taking painkillers.
Sharma says earlier he had to visit Lady Hardinge Medical College for routine checkup.
"For minor ailments and routine checkups mohalla clinics have come as a blessing. Otherwise I have to travel all the way to the hospital for minor ailments, which occur frequently at this age," he says, the prescription clutched in his hand.
Meanwhile, Ranju Devi asks Seema, crouched with her six-year-old daughter, whether she is the last one in the queue while lamenting that the clinic has only one chair in its waiting room.
"My joints are paining for the last one week. I had visited a private clinic but it did not help. Someone told me the other day about this new 'sarkari' facility. Suna hai achha hai, dekhte hai (heard it's good, let's see)" Ranju says.
According to Dr Saxena, who has been given a six-months contract by the government, the facilities provided in the three-room clinic are "adequate" and that medicines are routinely "replenished".
The clinics, have in their entrances, clear announcements that they offer "free tests, free medicines, and free consultation". A private laboratory has been entrusted with collecting samples of over 200 kinds of tests.
"We not only collect blood samples or urine samples and send them to the labs head office, we bring the reports and hand them over to the patients as well. They don't have to spend a penny in the whole process," one of the assistants said.
Few kilometres away in Mandawali, another such clinic housed in a "permanent structure" will be opened in a few days, which will have facilities at par with the first mohalla clinic that was opened at Rajiv Gandhi JJ Punjabi Colony, a relief camp in Peeragarhi.
Government has rented the rooms for around Rs 12,000 per month in the short term as getting space for setting them up in permanent structures was proving difficult.
In a bid to decongest government hospitals and make healthcare accessible to all, Delhi government has adopted a "three-tier public health roadmap" involving mohalla clinics, polyclinics and hospitals.
Polyclinics will have specialists and will refer only patients who require surgery or hospitalisation to a multi-speciality hospital, a government official said.
Delhi government has earmarked Rs 5,259 crore for the health sector in its 2016-17 budget, a hike of close to 10 per cent over the allocation last fiscal.