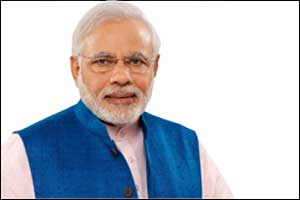 Ahmedabad: Inaugurating Sardar Vallabhbhai Patel Institute of Medical Sciences and Research in Gujarat's Ahmedabad, Prime Minister Narendra Modi informed about the developments that had taken in the field of healthcare in the last 4 years.
"Health facilities and medical education have been given a boost in the last four years, more than 18,000 MBBS seats and more than 13,000 postgraduate seats have been increased during this period," he said
"This brings a huge opportunity middle class aspirants who wish to pursue their career in the field of health. Even in the state Gujarat, thousands of seats have been added." he said
"We are working hard on ensuring that there is an availability of medical college in every three districts of the country. "
Addressing a gathering on this occasion, Mr Modi emphasized the importance of Ayushman Bharat saying, " With so much efforts being made in the field of healthcare, the private sector is also seeing an expansion. It is because of Ayushaman Bharat there is an increasing need for new hospitals in even smaller towns. New hospitals are opening faster, the demand for doctors and paramedic staff is increasing, thereby creating many employment opportunities are coming up for the youth in the healthcare sector".
The concern for the poor and the need to address them came to the fore as PM said," The Government stands with the poor and its priority for them is reflected in the expansion of health care services and provision of generic drugs at low prices under the Pradhan Mantri Jan Aushadhi Yojana. Around 5000 Pradhan Mantri Jan Aushadhi Kendras have been set up across the country."
Sardar Vallabh Bhai Patel Institute of Medical Sciences will be the first digital paperless government hospital in the country.Built by Ahmedabad Municipal Corporation, the 78 meter high, 1500 bed hospital is equipped with all modern amenities, including an air ambulance.
Read Also:First Paperless Govt Hospital: PM unveils 1500 bedded Sardar Vallabh Bhai Patel Institute of Medical Sciences
17 comment(s) on More than 18,000 MBBS seats, 13,000 postgraduate seats added in last 4 years: PM Modi