Minister tells doctors to join Naxals, so govt can kill them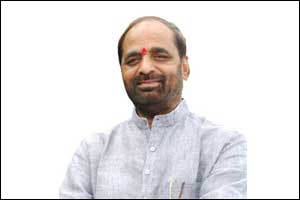 MUMBAI: Miffed over senior doctors remaining absent from a function that he was attending at a government hospital in Maharashtra, Hansraj Ahir MoS Home Affairs today said "these people should join the Naxals if they don't believe in democracy, and the government will then shoot them down."
The Minister of State for Home Affairs was speaking at the inauguration of a 24x7 store for generic medicines at a government-run hospital in eastern Maharashtra's Chandrapur, which he represents in the Lok Sabha.
"The mayor came, the deputy mayor came but what stopped the doctors from coming for the event?" angry Ahir asked, noting the absence of senior doctors at the event.
"What do the Naxals want? They don't want democracy... So these people (the absent doctors) don't want democracy, then they should join the Naxals. Why are you here? Then (once you join the Naxals) we will pump you with bullets, why you are dispensing pills here?" Ahir said, punning on the Marathi word 'goli' -- which means both a pill and a bullet.
"I am a minister chosen by democracy," ANI quoted Ahir as saying. "Despite knowing about my arrival, what is the use of going on leave?"
He added: "If there is no faith in democracy, then join the Naxalite movement, we will shoot you. There is no need to distribute tablets here. Naxalism does not like democracy."



I am a democratically elected minister, despite knowing that I am coming here why did the doctor go on leave? If they don't believe in democracy then they should join Naxals, we will put bullets in them: Hansraj Ahir,MoS Home at a hospital inauguration in Maharashtra's Chandrapur pic.twitter.com/xmGytpw1D0


— ANI (@ANI) December 25, 2017
Ahir wondered if it was appropriate for doctors to go on leave when a "democratically-elected" minister was on a visit.
Chandrapur is one of the four districts in Maharashtra which have been identified by the central government as affected by Left-Wing Extremism.